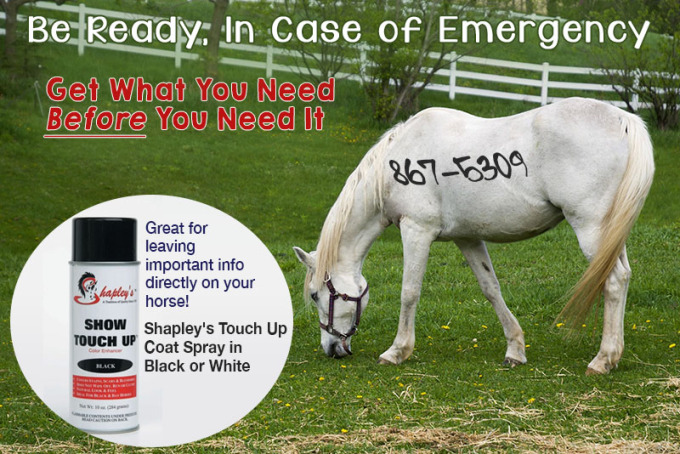 Be prepared to keep your animals safe when disaster strikes. With wildfire season now classified as year-round in Southern California, Mary's recommends that you be prepared for all emergencies — whether you own horses or pets. Having a plan and a backup plan will ensure the best chances for your horses and you to survive the season and any natural disaster that may come along.
No horse owner wants to face the impossible decision of leaving their animal(s) behind in an emergency. Mary's Tack and Feed has put together some great tips and products for you to have on hand as your emergency kit. Less than 5% of emergency personnel know anything about handling horses, especially if there are technical skills required for large animal emergency rescues. It is up to the horse owners to be completely responsible in disaster situations. Preparing in advance is essential to keeping your horse and other animals safe.
Emergency Preparedness for Horses
Emergency preparations may be what you need so that you'll be on the ready with supplies, resources, paperwork, and logistical planning necessary to protect or move your horses quickly.
Always have evacuation plans in place and posted at your barn so everyone knows what to do when disaster strikes. Who is in charge of moving the horses? Who is in charge of stocking and hooking up the trailers? Where will the horses be transported? What route will be taken? If Plan A isn't possible, what is Plan B, Plan C, Plan D, and so forth? Have emergency contact numbers clearly outlined in your plans.
Animal Identification
Along with your regular vaccination schedule, you may want to have your pets and horses microchipped if they aren't already. Microchipping can increase the chances of being reunited with your lost companion, should you ever be separated. In most cases, horses can also be freeze branded with a unique identification mark that will be visible to the naked eye, unlike a microchip which must be scanned. Have recent photos of your horse and pets to send to shelters or rescues to help locate them after the emergency if they do become lost or separated from you.
Benefits of Microchipping Your Horse
Lasts for the life of the horse
Rescue groups, veterinarians and animal control agencies all have universal scanners that can read any brand of microchips and help reunite horses with their owners
Using a centralized registry will help rescue groups contact the owner
Horselookup.org and aaha.org/petmicrochiplookup are two good ones
Microchips can verify that a competition horse is the one that is actually entered in an event
Health records and other information allows veterinarians to scan horses and bring up their files and other important information
Medical Records
All horses should be maintained on a regular vaccination program with yearly Coggins testing, even if you don't plan to travel or show. Evacuation facilities often require you to follow animal health regulations and biosecurity measures. Keep a binder with waterproof or laminated copies of all medical records, registration papers and physical descriptions that can travel with your horses. Include health, temperament, feeding and management information for caretakers.
Keep recent photo identification and microchip information with your personal emergency paperwork to identify your horse when you reunite. Have a checklist handy when loading your horse so everything is stored securely and kept together when it's time to go.
Loading and Transporting Your Horses During an Emergency
If you own a horse or livestock trailer, be sure that the trailer has regular safety checks, whether it is used consistently or stored. In the event of an evacuation, you want your trailer to be in safe, reliable condition to transport your animals to safety. Along with safety checks, your trailer should be stocked with plenty of spare halters, lead ropes, hay nets, buckets, water, and horse treats.
Be sure to load and unload your horses to the emergency trailer. No horse owner wants to face the nightmare of leaving a horse behind because it won't load in time for an evacuation! Seek expertise if you need help training your horse for these situations and regularly practice evacuation drills (3 times a year is recommended).
Emergencies may require horses to load in stressful situations or unfamiliar environments. With regular practice, this may minimize stress, but sedation and calming products may help. Speak with your veterinarian to know your options and keep then on hand for emergencies.
If you don't have enough trailer spots for all your horses, build relationships and have several reliable transportation options available as part of your emergency action plan.
First Aid Supplies
A complete emergency first aid kit for your horse is essential in all situations, especially in an emergency. Work with your veterinarian so that you will be able to manage most medical problems if your vet is unavailable or they cannot be reached. Mary's Tack and Feed has several products that can help with general cuts, bruises, and other simple coat issues.
Keep in your trailer an equine (and human) first aid kit, along with tubes of calming paste and electrolyte, both in powder form to encourage your horse to drink unpalatable water and in paste form if your horse is too stressed to drink water. If you own pets, be sure to have plenty of days' worth of food and water stored in your vehicle and any medication if needed.
Best Equine First Aid Kit Includes
If evacuation isn't possible, it's not recommended to keep your horses cooped up in a barn or even in a pen if a fire is dangerously near. Put your contact info, such as your phone number, directly on your horse.
You can use a waterproof paint marker/sharpie on your horse's hooves, use spray paint or Shapley's Touch Up Coat Spray on your horse's coat to leave your phone number so it is visible even at a distance. The key is to use a product that will stay on the horse's coat.
You can use a product like the ManeStay Emergency ID Tag or I.C.E. Ultralite Emergency ID Tag to put your contact info in your horse's mane. Or you can strap the info to your horse's neck with the EquestriSafe Horse Identification Collar.
In the event of a dire emergency, it is more important that the contact info stays on your horse until rescue. If – in a worst case scenario you have to release your horses because evacuation is impossible - remove halters from your horse, unless it is specifically designed to breakaway, such as a safety halter, and then set your horses loose. As dangerous as this seems, your horse will have a better chance of surviving the disaster given the freedom to move away from the danger.
You can also apply the Atira SWT Fire Safety Gel on your horse, dog, or cat. It is a fire retardant gel that is non toxic and lasts for 6-8 hours. This will help give your animals a fighting chance.
Emergency Action Plan A… Plan B
Your plan will outline the steps you need to remember during an emergency. Whether you are following the plan or someone else, they need to be clear and it's helpful to have direct access for necessary items all in one area of your barn/facility.
Information to gather for your Emergency Evacuation of Horses
Information about the Farm where the horse(s) is housed
Emergency contacts
Maps of evacuation routes (2)
Available equipment
Animal inventories
Strategies to limit property losses
What to do with horses in emergencies and details on how to move them, where to take them, and who will be responsible for what
Your packing list
Individual responsibilities
Relevant contacts
Walking thru your plan at least 2-3 times per year will help everyone work together well and know what to do if everyone is not there to help. When emergencies occur, owners will have a detailed plan to execute immediately. Quick action is critical for an effective response, and preparing disaster kits will help ensure you leave with everything you need.
Disaster Kits for Equine Emergency Evacuation
Two weeks' worth of feed, water and bedding is best practices for equine emergencies. Keeping clean drinking water in large storage containers will ensure horses have a source of hydration if you lose power or the water source becomes contaminated.
Create a "Go Bag" that you check regularly and items are stored in air-tight, waterproof container and they are simple to grab in an emergency.
Disaster Kit for Equine Emergencies
First Aid Kit
Medical Records
Two-week supply of medications
5-day supply of hay, feed and water
Extra halters and lead ropes
Buckets and fence ties (Feed, water, feed scoop, hay nets)
Work clothes and tools for humans

You can find many of your emergency supplies for fire season and other emergency evacuation to keep you prepared at Mary's Tack & Feed in Del Mar, CA. Or visit us online at www.marystack.com or call Toll Free 1-800-551-MARY.