About Us – MarysTack.com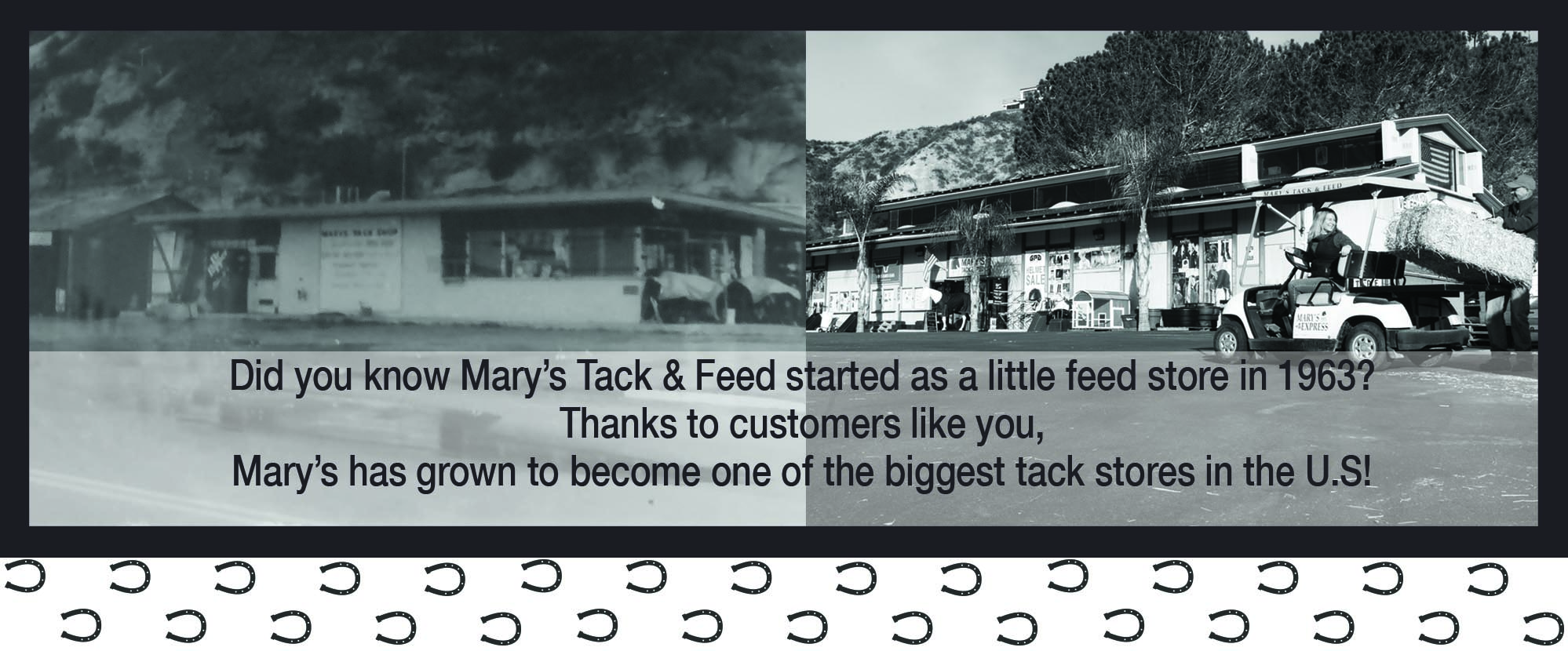 Mary's Tack & Feed in Del Mar
CONTACT US:
email@marystack.com
Call Toll Free 1.800.551.MARY(6279)
Mary's Superstore
3675 Via De La Valle
Del Mar, Ca 92014
(858) 755.2015
*On the corner of Via De La Valle and El Camino Real, just 1.5 miles east of Interstate 5. (Map It!)
Monday-Friday (10am - 6pm)
Saturday & Sunday (10am - 5pm)
Current Events / What's Happening
CLOSED for 4th of July (07/04/23)
Mary's Tack and Feed was started Mary Hammond in 1963 in Del Mar, California. At just over 600 square feet, many days the saddles had to be moved outside to make room for customers to shop inside the store.
Mike Mosley purchased Mary's in 1976. In 1984 he moved it across the street into the large wooden pole building that he built on the corner of Via De La Valle and El Camino Real. Now, with almost 12,000 square feet of retail space and a thriving online presence, Mary's offers just about everything to meet your equestrian and pet needs.
Mike is still very involved with Mary's and proud of the team he has put together. In 2021, Mike entrusted his legacy to the employees by making Mary's an ESOP. With an Employee Stock Ownership Plan, Mary's Tack & Feed is on the way to becoming 100% employee owned. When you choose to shop at Mary's, you don't just support a brick and mortar small business. You also support the employee owners who are passionate about all things horses and equestrian and are committed to providing outstanding service and experiences for our customers.
Our Goal
The goal at Mary's Tack and Feed is to provide top quality products, great service, and knowledgeable sales associates. Our team of buyers works directly with manufacturers in the United States and around the world and Mary's Sales Associates continuously train with vendor representatives to keep up with the "latest and greatest." Most of our employees are enthusiastic riders themselves, and if not telling horse stories, we're probably talking about our dogs or cats. The Mary's enthusiasm is contagious, and our goal is for customers to leave with a smile. We hope to do the same with your online order. If you are interested in joining the Mary's Team, please visit our
Careers
page and fill out an online application there.
Competitive Pricing
Please don't be fooled by cheap imitations. Enthusiasm for quality equine products is not the same as over-priced merchandise. You'll see that our pricing is very competitive, and on most products we also offer a
Price Match Guarantee
. If you're looking for a $29 cheaply-made bridle, we won't sell it. Cheap bridles break at the most inopportune times. Looking for a good quality bridle that will last? Mary's is YOUR tack store! Quality horse and pet supplies, competitive pricing, and friendly, knowledgeable service make Mary's a bargain, every time.
A Good Member of the Community
What's next? Mary's strives to be a good member of our local equestrian community – helping to sponsor local equestrian and pet events of any size. Pony Clubs, therapeutic riding programs, horse shows big and small, and community pet events will almost always have something donated by Mary's to support the program. If you have a Southern California riding organization or show, however, and would like more information about possible support from Mary's Tack & Feed, please download and fill out this
sponsorship form
and mail it to: Sponsorships, Mary's Tack & Feed, 3675 Via De La Valle, Del Mar, CA 92014. Or contact sponsorships@marystack.com. Please contact Mary's AT LEAST 2 weeks prior to your event to be considered.
You Are Important
You are our main priority. We like to take care of business and have fun doing it. Let us earn your business, and please
tell us
if we need to improve. Your comments are very important. Thanks for shopping at Mary's Tack & Feed.
What our customers are saying...
"Everyone was extremely nice and knowledgeable. Great quality with a wide range of horse attire and products for all disciplines. My cousin who is 13 years old and rides horses up in Northern California has been helped by Chelsea both times we visited. Chelsea is very patient and friendly, and definitely recommend seeing her if you need any assistance. She even was able to recommend some additional horse camps for the summer for my cousin to attend! Thank you so much! We are very satisfied and happy with all the assistance given! We will definitely be back!"
Chandra R, CA

"Mary's always provides excellent customer service, whether in the store or on-line. The staff is knowledgeable and helpful. I recently moved out of San Diego county, but when I go back to visit I always go to the Del Mar store. When I order on-line, the service is still great and the delivery was within 2 days. Mary's is my favorite place to shop, for my horses, for gifts, and for myself!"
Vickie

"I would just like to thank you all again for the outstanding service I received from your company. Without the sharp eyes of one of your employees noticing something odd with my credit card, I could have been charged for an endless amount of things via Nigeria!!! The attention given to me and the placing of a new order was most appreciated. I thank you all again."
Deb D

"Greetings from a very satisfied customer. I love my new bridle and told my trainer about it. So you may have another new customer. Thank you for the service and carrying quality equestrian tack at great prices!"
Marci D.

"I have to say, I live in another state, but visit San Diego at least once or twice a year and I ALWAYS make it a point to stop by Mary's Tack & Feed while I am in town. I love the store! No matter how many tack stores I have been to in the southwestern U.S. and northwestern U.S. - Mary's is still one of my favorites!"
Mathilde J, KY
From a small tack store in Del Mar, California grew the expansive horse supply superstore known as Mary's Tack and Feed. Online, Mary's offers high quality tack, clothing and horse supplies from some of the top brands in the industry, and we ship to horse owners all across the country. Our prices are low and our knowledgeable sales staff is always friendly, so you can find items from some of the top equine brands at unbeatable prices. Visit Mary's brick and mortar location in Del Mar, or check out our online shop any time of day or night. It's 2023 and we continue to celebrate with over 60 years in the business of horse! See you at the shop.