Posted by Mary's Tack & Feed on 16th Sep 2021
If you're looking for the finest Western saddle accessories, look no further than Mary's Tack and Feed, your one-stop shop for horse gear. Our Western saddles and tack include a wide range of reliable, high-quality products.
Saddle Pads
We carry a variety of Western saddle pads to fit all your needs. These saddle pads not only make the ride more comfortable for the horse but add a bit of style to your riding. We offer durable standard Western pads from well-known makers, such as Reinsman, Tokiat and Professional's Choice. What you select depends on your needs, budget and style.
For maximum pressure relief, try our Professional's Choice Comfort Fit Felt Pad with a cutback design for greater range of motion or our Toklat Wither Relief Felt Pad.
If you're looking for something a bit bolder and more colorful, check out our Classic Equine SensorFlex Wool Top Pad with its handsome design or our Professional's Choice Ocotillo Wool Top Pad.
Mary's Tack and Feed also offers some basic standard Western pads, such as our ThinLine Basic Western Square Pad.
Mary's Tack and Feed also offers a variety of correction and shim pads for horses that need a bit more protection around the withers, back and shoulders. Our Reinsman Shoulder Fill Correction Pad provides extra cushioning that fills in gaps behind the shoulder blades. Our Classic Equine BioFit Shim Pad is another great choice. Its closed cell foam shim has a wedge shape to keep it in place and prevent discomfort for the horse.
Our Navajo blankets and saddle pad liners are also popular and great for show. Check out our colorful Mayatex Moonlight Navajo Blanket or our bold Mayatex San Juan Solid Navajo available in many beautiful colors.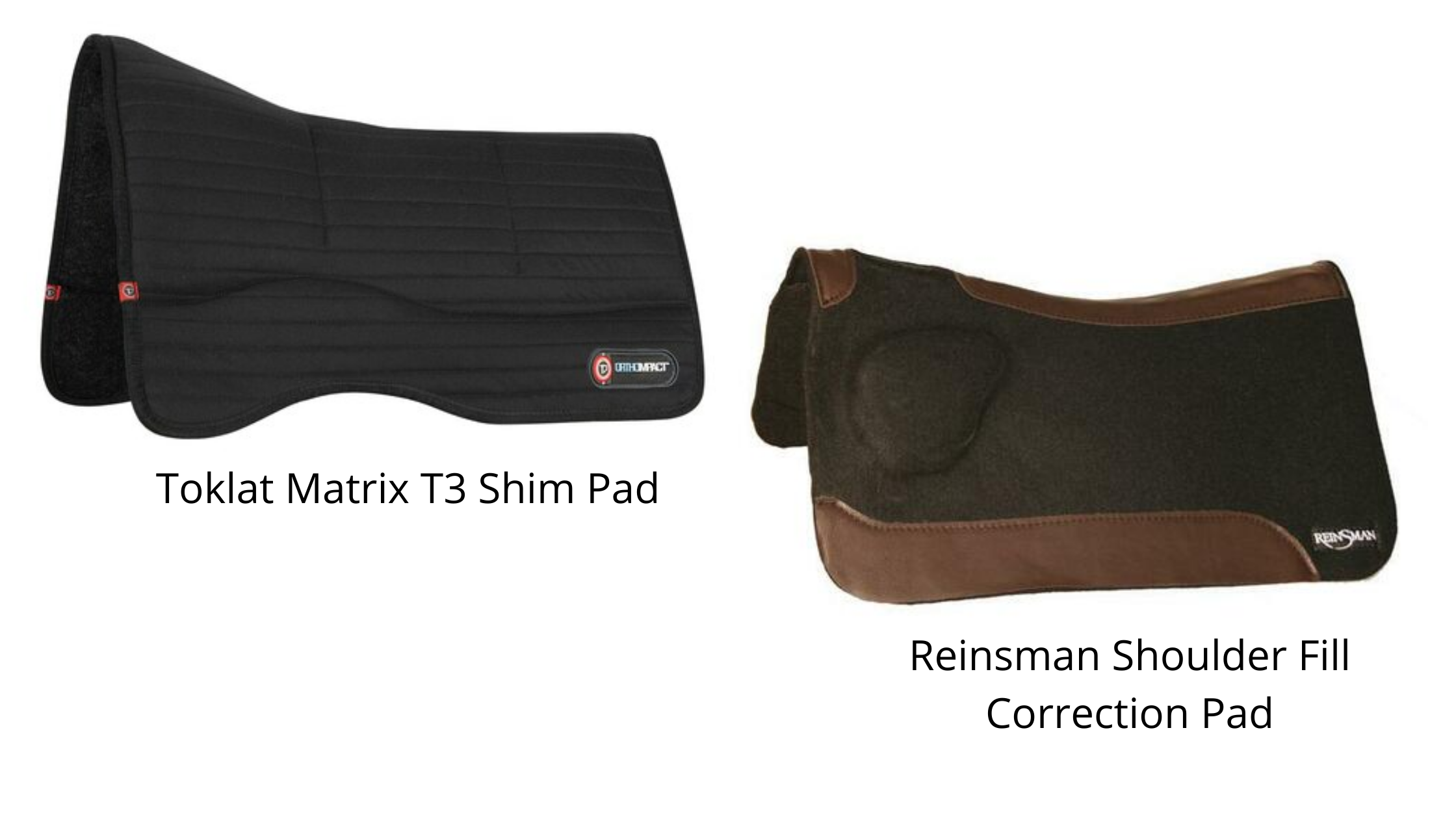 Tack Bags and Covers
It makes sense to invest in a high-quality gear bag for all your Western riding accessories. These gear bags provide a safe way to store your tack and accessories while keeping them clean and out of the way. Mary's Tack and Feed offers a wide selection of bags to choose from.
Our five-star Stall Front Back with Pockets is a great choice and offers personalization for storage of all your riding gear.
If you're looking for a simpler saddle case, check out our Professional's Choice Western Saddle Case, an affordable option for storing your Western saddle that comes with a durable, adjustable and removable shoulder strap.
Our Western Saddle Blanket Carrier Bag is also quite cost effective and perfect for storing horse pads and saddle blankets to protect them from the dust.
If you're looking to store bridles or halters, you might like our Halter/Bridle Bag. It's big enough to store three halters or bridles, and it's available in two sizes and multiple colors for your convenience.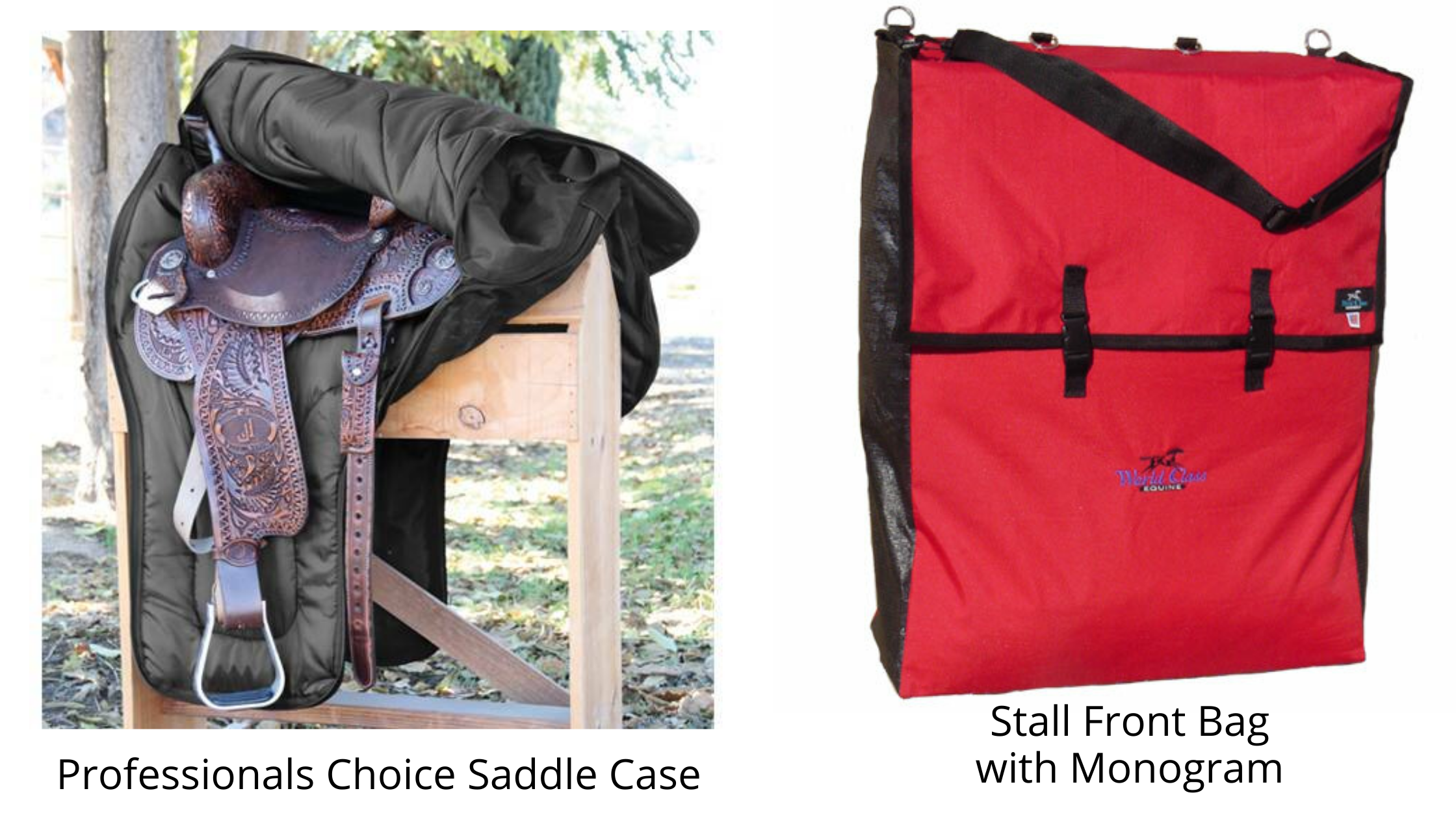 Trail Packs
You may also want something to carry items with you on the trail. Check out Mary's Tack and Feed trail bags and seat covers. These packs are designed to make your ride more convenient and comfortable. For instance, you can easily and safely keep your phone close with our Classic Equine Phone Pack. If you need to carry a bit more, opt for our Cashel Lunch Bag and Bottle Holder.
Here at Mary's Tack and Feed, we love talking to customers. If you have questions about our equestrian saddle accessories or any of our products, please free to contact us anytime!