Posted by Mary's Tack & Feed on 24th Mar 2021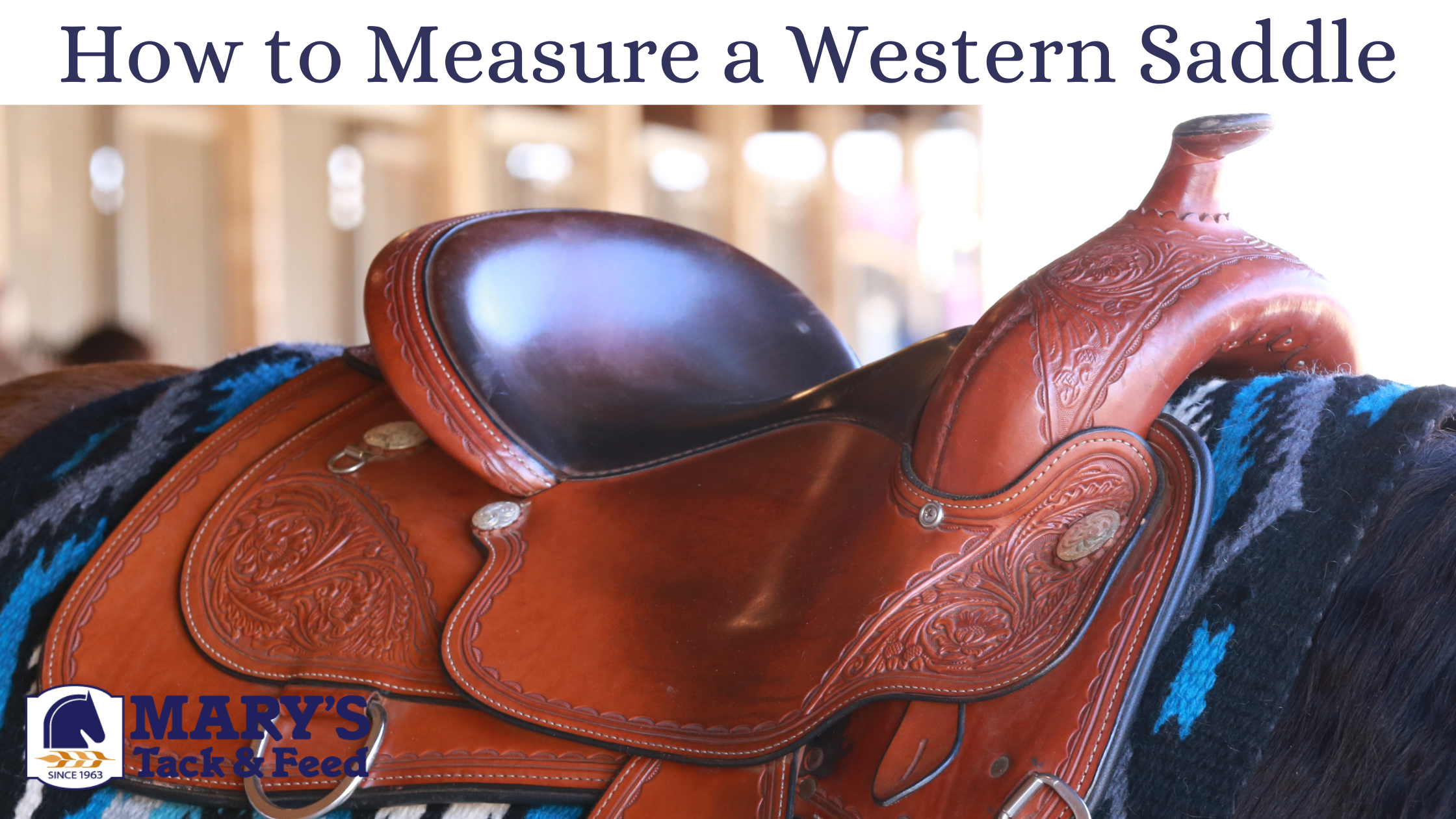 Buying a new saddle is one of the biggest horse tack investments you can make, so you want to approach the purchase with all of the information you need to ensure you buy the right size of saddle. While you certainly want to find the perfect fit for your comfort in the saddle, a properly sized saddle also makes all the difference when it comes to your riding performance (and even you and your horse's safety). Many riders aren't certain about how to size a Western saddle for your horse or even how to fit a Western saddle to a rider - but that's where Mary's Tack and Feed comes in.
At Mary's Tack and Feed, we carry a wide selection of name brand Western saddles, so you can count on finding the perfect saddle for you and your horse. We also have an experienced team of seasoned riders that know exactly how to help you choose the perfect size. Before you can start saddle shopping, you need to know how to measure a Western saddle. Read on to learn how to measure a Western saddle before you start shopping for your new tack.
Consider Your Horse's Back
Since there is no standard tree size in the Western saddle industry, you'll need to check out your horse in order to determine the saddle size you need. The shape of your horse's withers (whether tall and sharp, or low and softly rounded) as well as the spring of their ribs (whether round like a barrel, or dropping more quickly at an angle) will play a role in which tree size you'll need. Most horses will fall in a category of medium or wide bars and the key is trialing those saddles widths to find the most appropriate size for your horse. Getting your horse the best fit will be best achieved by examining your horse's withers and back and noting their size and shape before shopping for a saddle. Generally some horses for Western riding (like Appendix Quarter Horses, refined paint horses and some gaited horses) will fit a saddle with a medium tree. If your horse has more rounded withers and a flat back (such as a foundation style Quarter Horse or draft horse), you'll likely need a Western saddle with wide or extra-wide bars.
(Saddle shown: Circle Y Helena All-Around Saddle)
Measure Your Own Seat and Compare to the Saddle's Seat
Western saddles sizes run according to the length between the saddle's swell and the top of the cantle and this distance is measured in inches. For example, a small adult Western saddle is likely around 15 inches, while a large adult Western saddle is around 17 inches. Measure your current saddle by placing a tape measure at the end of the swell closest to the seat, then measure straight back to the front of the cantle. This measurement is the size of your current saddle.
Next, evaluate the way you sit in this saddle. Starting with a relaxed seat and stirrups that are comfortable for you to ride in, sit in your saddle and measure from the top of your thigh to the swell. You should be able to fit at least four fingers between the top of your thigh and the swell of the saddle. If you have more than a hands-with, you could possibly go down a seat size. If you can only fit two fingers or less between your thigh and the swell, you should probably go up a seat size.
Making sure the seat size is correct means that you'll be sitting in the "pocket" of the seat. This is where the saddle is designed to disperse and distribute weight appropriately. It will also be the most comfortable for as that is the balance spot for the saddle.
Consider the Saddle's Cantle
While the specific size of the seat is important, you'll also want to consider certain factors regarding the height and angle of the cantle just as much. The height and angle of the cantle (or the part of the saddle seat that extends upward at the rear and provides back support) is what determines how deep you'll sit in the seat and how snug you'll feel in the seat. A cantle that measures four to five inches will provide ample back support and encourage an upright posture while still offering a snug secure fit. A cantle that is less than four inches will give you a bit more room for movement, and allow for a more relaxed seat. Generally, casual riders prefer a bit more movement while high speed riders (such as barrel racers or pole benders) prefer a more snug and secure seat.
There are a lot of things to consider when shopping for a Western saddle. Start your search by considering the size and shape of your horse, then narrow down your saddle options according to your riding style and how you fit in your current saddle. Take your time finding the perfect fit for you and your horse to maximize comfort and performance. When you think you've found the perfect saddle, take advantage of our free trial period to test your saddle out and make sure it's the right fit for you.