Posted by Mary's Tack & Feed on 31st Aug 2023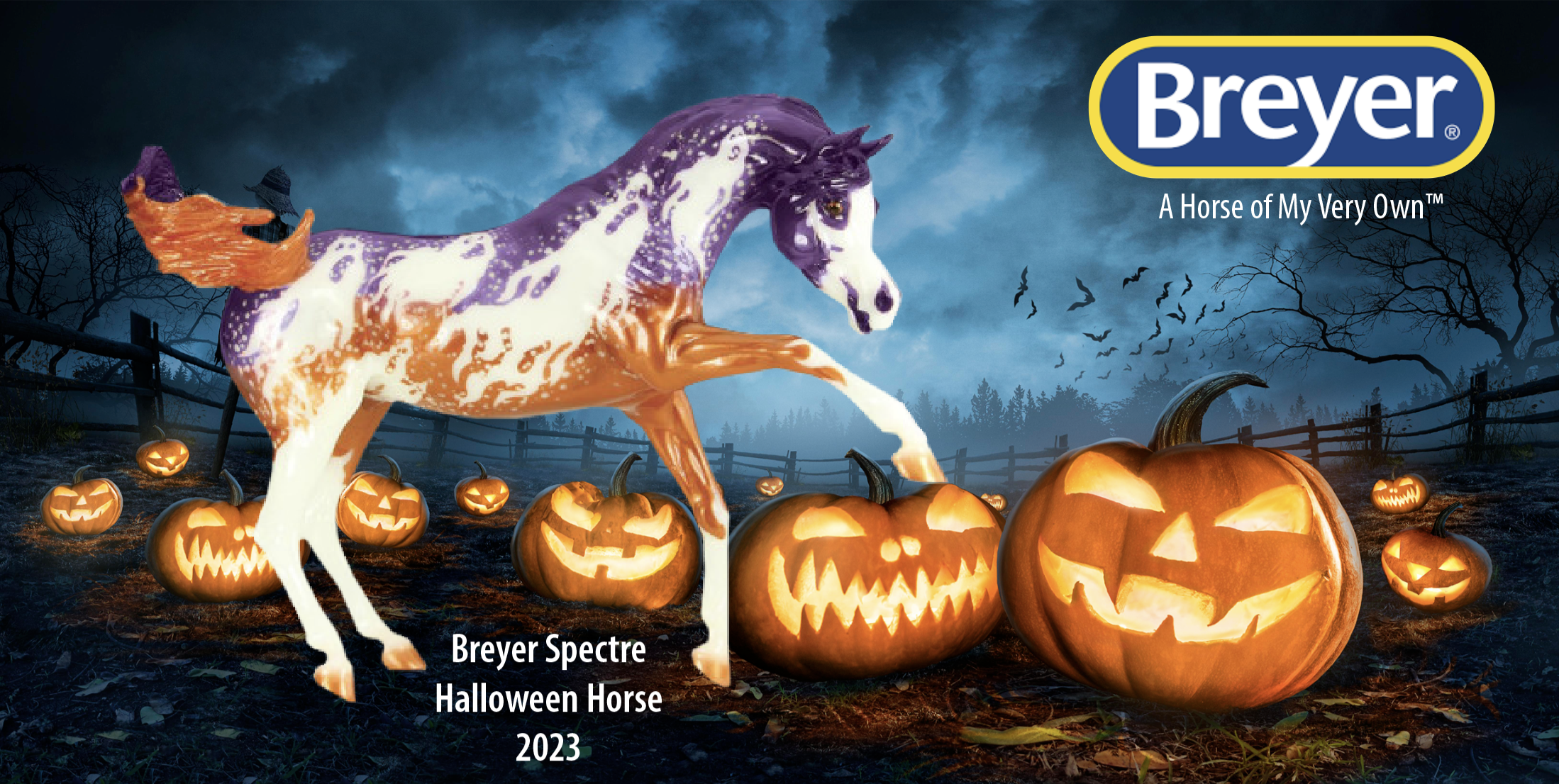 Galloping Ghouls: Breyer's 2023 Halloween Horse, Spectre
Each year, Breyer releases a select collection of limited-edition holiday horses that embody the spirit of the season in breathtaking ways. These meticulously crafted models are designed with a keen eye for both accuracy and whimsy, making them coveted pieces among collectors. This year is no different! As the warm, sunny days of summer make way for cool, crisp air and the crunching of fall leaves, the 2023 Spooktacular Halloween limited edition Breyer horse gallops his way into Mary's Tack and Feed. The aptly named Spectre sparkles with a purple and orange pinto coat. The Arabian stallion is splashed with ghastly ghosts in unearthly white across his body. As day turns to night, these haunted wraiths glow green in the dark – making him a dramatically eerie sight to behold in any graveyard or bookshelf! Keeping with the festive Halloween spirit, Spectre's four white stockings dance up his legs like flames and his white bald face gives him a jack-o-lantern like grin.
The detailed brushwork on all Breyer horses is done by hand, and Spectre is no different. Spectre was lovingly designed by artist Lauren Hoefer of desert sun studios.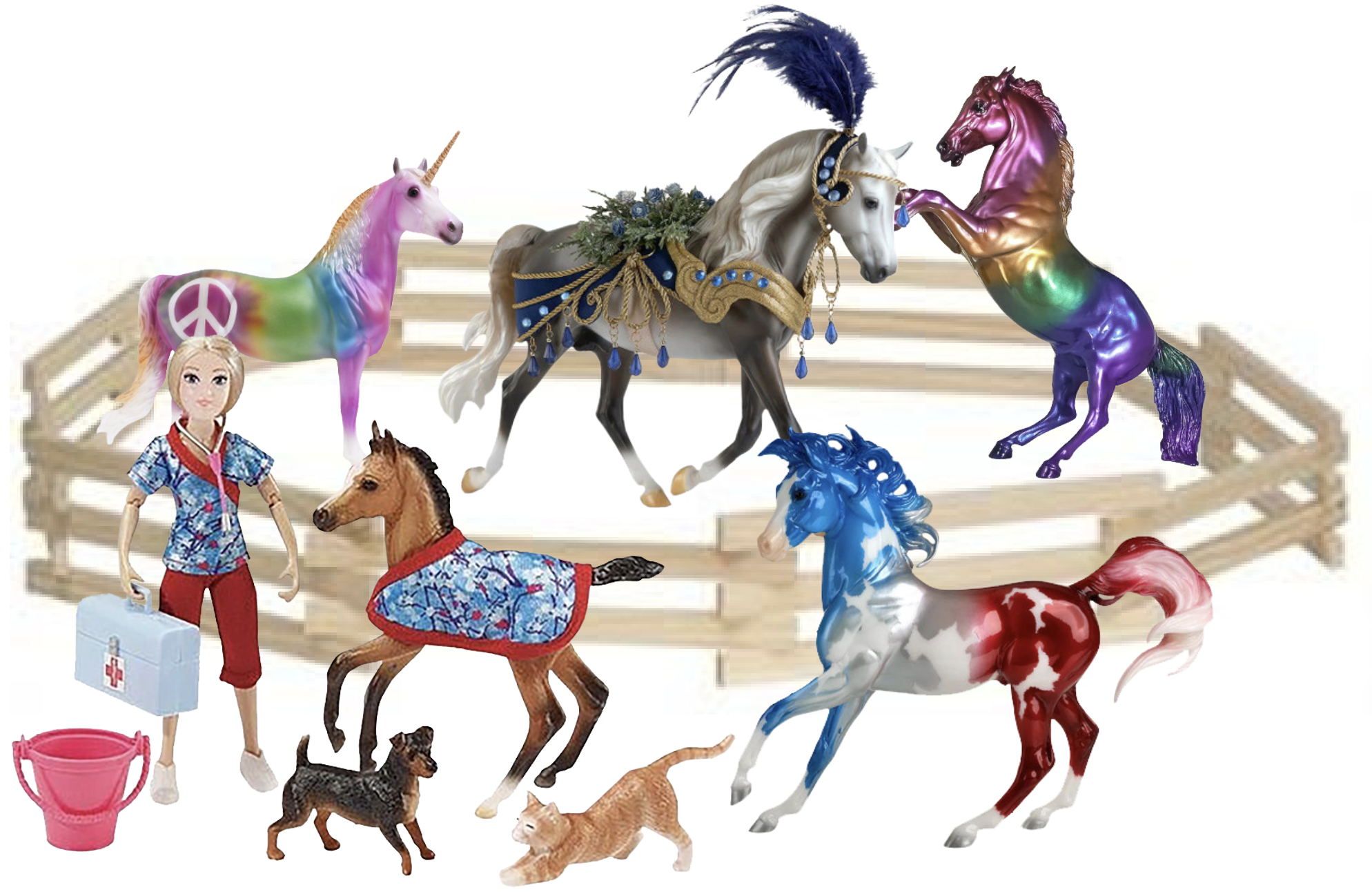 A Breyer for Every Season
Stumped on finding the perfect gift? Since Breyer Animal Creations made their first model horse in 1950, their products have captivated our collective hearts. While their limited-edition horses seamlessly blend artistry, passion and timeless charm, there are many other Breyer products that can be considered for the wear and tear of everyday play and make excellent gifts!
The Stablemates collection make fantastic gifts. At 1:32 scale these pint-sized companions are easily transported to school, vacations, and slumber parties. These small-scale replicas capture the essence of different horse breeds, equestrian sporting events, and even fantasy themes. The possibilities in imagination play are endless as the Stablemate line offers a variety of playsets and barns like the Breyer Stablemates Deluxe Animal Hospital and Deluxe Wood Stable Playset. Young and young-at-heart can even customize their own Breyer models with the Paint & Play collection like the Suncatcher set or the Unicorn family set.
For Breyer normal size models (1:9 scale) Mary's has a large collection of barns and accessories to aid in the horseplay. Keep your horses classically and beautifully housed in the Breyer Deluxe Wood Barn with Cupola. Set an exhilarating horse show scene with the show jumping oxer and brush box fence. Don't forget the day to day details, kick realistic play to the next level by adding this farrier with tool set, red dually truck or the stable feed set to your collection.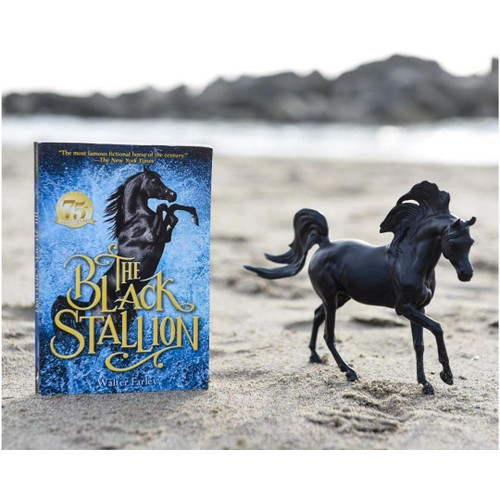 What could be a better gift than the gift of reading? You can introduce a child in your life to cherished classic equine literature like Black Beauty by Anna Sewall or The Black Stallion by Walter Farley. With their own model horse depicting the main character scenes can be reenacted, and reimagined.
Breyer has a gift for everyone, they have created several lines of horses that bridge generations, offer educational and creative value, and can become cherished collectibles that carry personal and emotional significance.
Captivating Holiday Magic: 2023 Breyer Holiday Collection
Breyer Model Horses have long held a special place in the hearts of collectors and equestrians alike. The exquisite attention to detail and masterful craftsmanship have elevated these equine replicas to the realm of art. Among the treasures that Breyer offers, their limited-edition holiday horses stand out as truly enchanting creations, capturing the essence of the festive season on a small scale. Highlander, Breyer's 2023 Holiday horse provides a sense of tradition and nostalgia. In a beautiful uphill and balanced canter this porcelain holiday gelding emerges bright eyed in a blue plaid, black fur lined blanket sitting sumptuously on his gleaming buckskin coat, while snowflakes and gems dazzle as adornments.
While Highlander will bring the holiday cheer to your mantle or bookshelf, the Breyer Holiday ornament collection will show off the love for horses on any Christmas tree. Showcase the likes of 2022 holiday horse Snowbird stirrup ornament, the Rosalie carousel unicorn ornament, or the Breyer artist signature ornament amid twinkling lights. Young and young-at-heart can even customize their own Breyer model with the Breyer Paint Your Horse Ornament Craft Kit. Even the build up to the holidays can have a little horse excitement with Breyer's advent calendar available with horses or unicorns!
Highlander serves as a timeless reminder of the magic and wonder of the holiday season, transporting us to a world where the beauty of horses mingles with the joy of celebration. From Santa's sleigh-pulling reindeer to elegantly adorned horses donning festive wreaths and blankets, Breyer's holiday horses allow enthusiasts to infuse their love for horses into their holiday decor.
Shop Breyer Horses by clicking on any of the images now.