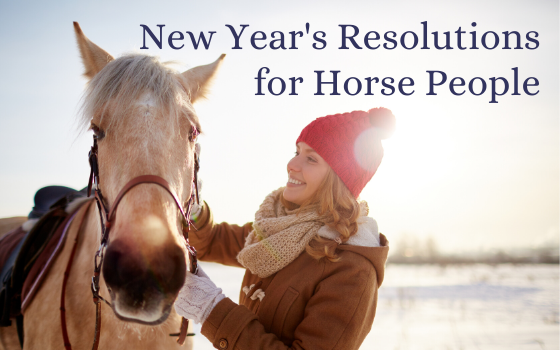 It's a brand new year and the start of the 20s, a good time to set goals and try to be a better version of ourselves. What does that mean for you as a rider?
Here are a few ideas to get you thinking and planning for 2020.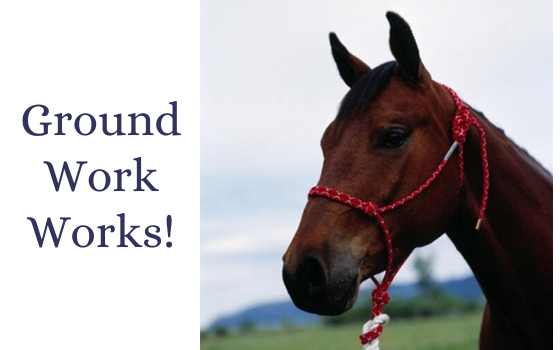 1. Improve your horse handling skills. Sometimes we overlook the ground manners because we're in a hurry or we know our horse just acts like that. We work around them not standing still at the mounting block or cutting in a little too close while lunging, or pulling hard while we're leading them. Would you tolerate this behavior from somebody else's horse? Could someone get hurt by your horse's actions? Horse owners may know a behavior is wrong but not know how to correct it. Find tools, like the Double Diamond Stiff Rope Halter or Blocker Nylon Training Halter, to help redraw boundaries or find someone to assist you. Working with a knowledgeable, experienced person will make you a more confident, skillful horse owner.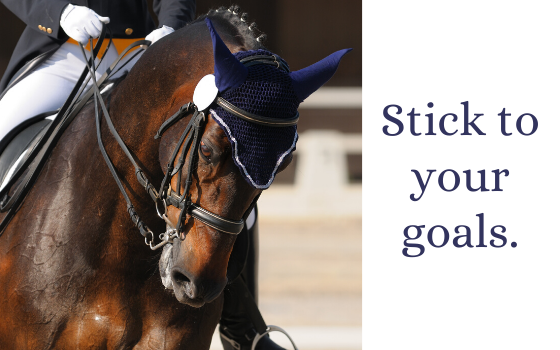 2. Pick a goal, any goal. Is this the year you jump 3 foot? Is this the year you really and truly learn to find a distance or try team penning? Will you make it a habit to wipe down your tack after each ride rather than say you'll do it next time because you're in a hurry? Small or big, state a goal and list the steps to reach it.
Goal: Clean my tack after each ride.
Steps: I will have a tack hook, a place to hold my saddle, a bucket of water, leather cleaner, and a sponge ready to use.
A written goal or visual reminders of your goal can help you stay on track.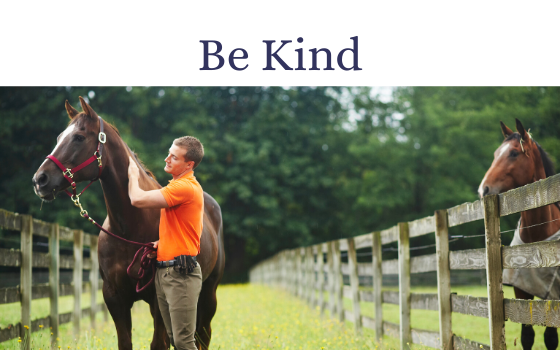 3. Be kind. Don't forget you were a beginner once, so have empathy for the newbie who still has a lot to learn. Don't lose respect for the professional rider who made a mistake in the big arena for all to see. Be kind to yourself when you forget your course at the champ show (yeah, that was me) or when you accidentally left the bell boots on overnight. Bear in mind, mistakes are lapses in judgement or performance, not actions that are abusive or cruel, of course.
4. Make a clean start. A messy tack room is frustrating when you can't find what you need and could be hazardous. Get organized by making a plan. Sketch your space and figure out logical places for everything then get the hardware (may we suggest the Portable Tack Bar 6 Hook, Brass Horseshoe Bridle Bracket, Single Arm Saddle Rack, & Helmet Holder) you need to make it happen. A Phoenix West tack trunk is a smart purchase you won't regret. There are lots of ways to organize your tack room. Visit our Barn & Stable Supplies area for inspiration. You will be so happy to have a place for everything and everything in its place - and to find those new spur straps you bought last year!
5. Reflect on how lucky you are to simply have a horse in your life. A century ago most people in the U.S. had contact with horses, often on a daily basis. Today, a surprising number of people have never petted, much less ridden a horse. Riders have the experience of climbing on the back of a big, powerful animal, telling it where to go and what to do, working as a team. We know the joy of our horse nickering when they see us, the sublime softness of that little spot on their muzzle, the exhilarating feeling of flying over a jump or galloping down a trail. Sure, there are less-than-thrilling moments when Dobbin has yet another abscess or pulls a shoe 15 minutes before your medal class. Why, Dobbin, why? And maybe the nickering is partly due to the horse treats in your pocket, but still. That connection between you and your horse is something not everyone gets to experience or even understand. Try to focus on that when life is challenging and things aren't going as planned. You still have magic in your life.
It's a new year, a fresh starting point. Whether your goal is improving your riding and general horsemanship, showing character in the equine community, or expressing gratitude whenever you can, we wish you success and satisfaction throughout 2020.