We've all heard the adage "No hoof, no horse." Not all horses have great feet. Genetics plays the largest role in your horse's hoof health. Those genetics can be supported with high quality nutrition and top farrier care. If any of these three ingredients is lacking you may need to turn to the added help of a hoof hardener, dressing, or conditioner.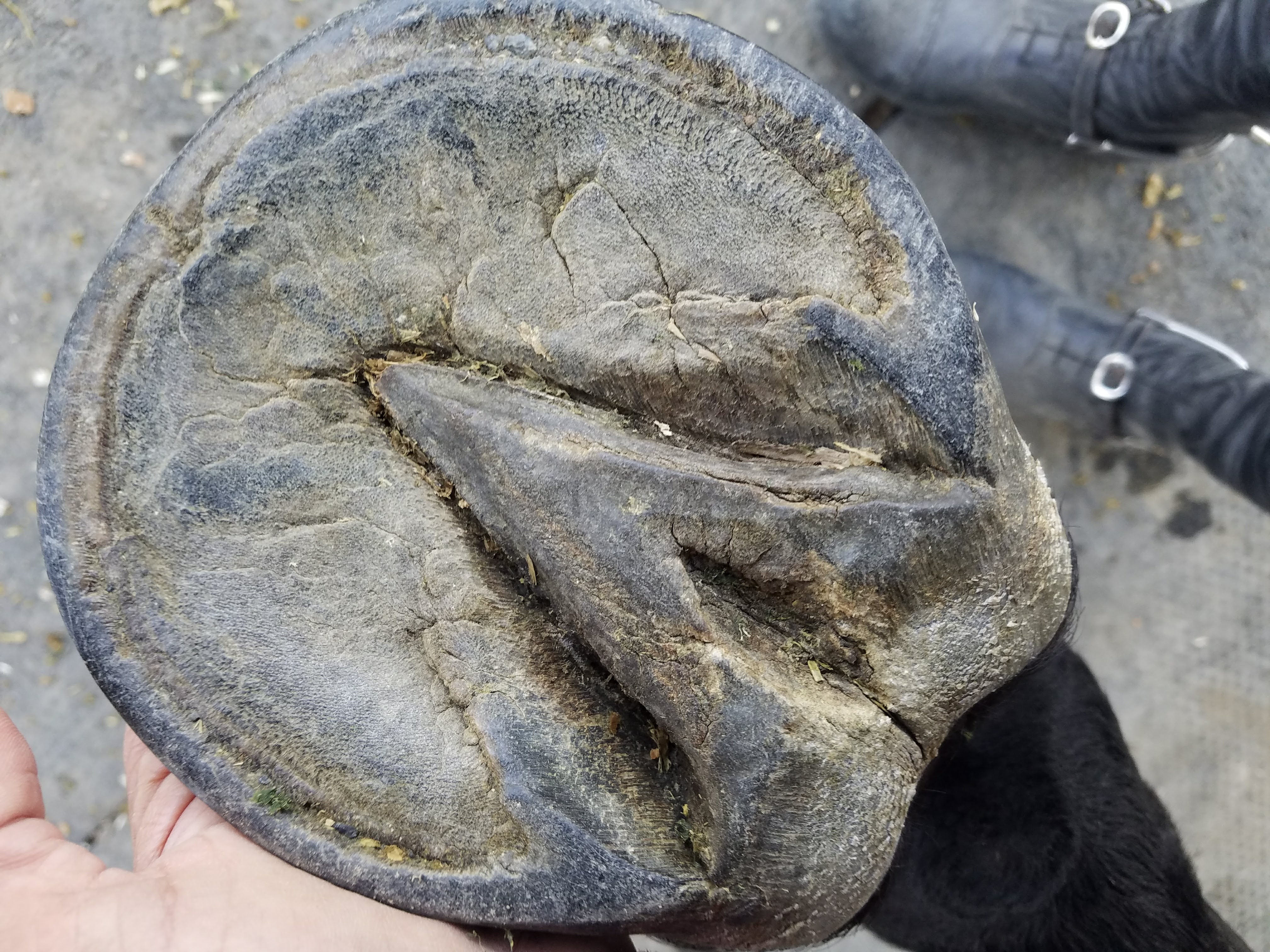 Types of Hoof Dressings
For the most part hoof dressings fall into two categories – Petroleum/Oil Based or Lanolin based.
Petroleum/Oil based hoof dressings tend to have one or more of the following ingredients: Neatsfoot, Cod Liver Oil, Pine Tar, Petroleum (obviously), or Turpentine. If the label is missing, you'll be able to tell the dressing is petroleum/oil based by its gooey consistency (colors may vary by product). Popular Hoof Dressings sold at Mary's that fall into this category are: Bickmore American Venice Turpentine, Hoof X Rejuvenator, Farriers' Fix, Cornucrescine Tea Tree Oil, Shur Hoof, Reducine Absorbent, Farnam Horse Health Pine Tar, Fiebing's Hoof Dressing, and Effol Hoof Ointment.
Lanolin based hoof dressing common ingredients include: lactates, stearates, alcohol, glycerin and of course lanolin. The consistency of these dressings tends to be lotion-like. Common lanolin-based hoof conditioners that Mary's carries include: Lavender Dream Farms Hoof Dressing, Mustad Tuff Stuff, Sound Hoof Conditioner, Hoofmaker, Hoof Alive, Horseshoer's Secret Deep-Penetrating Conditioner, and Hooflex Natural.
Mary's Tack carries four products that combine the awesome powers of both Petroleum and Lanolin – Hooflex Therapeutic, Vita Flex Vita Hoof, Rain Maker, and Pedocan.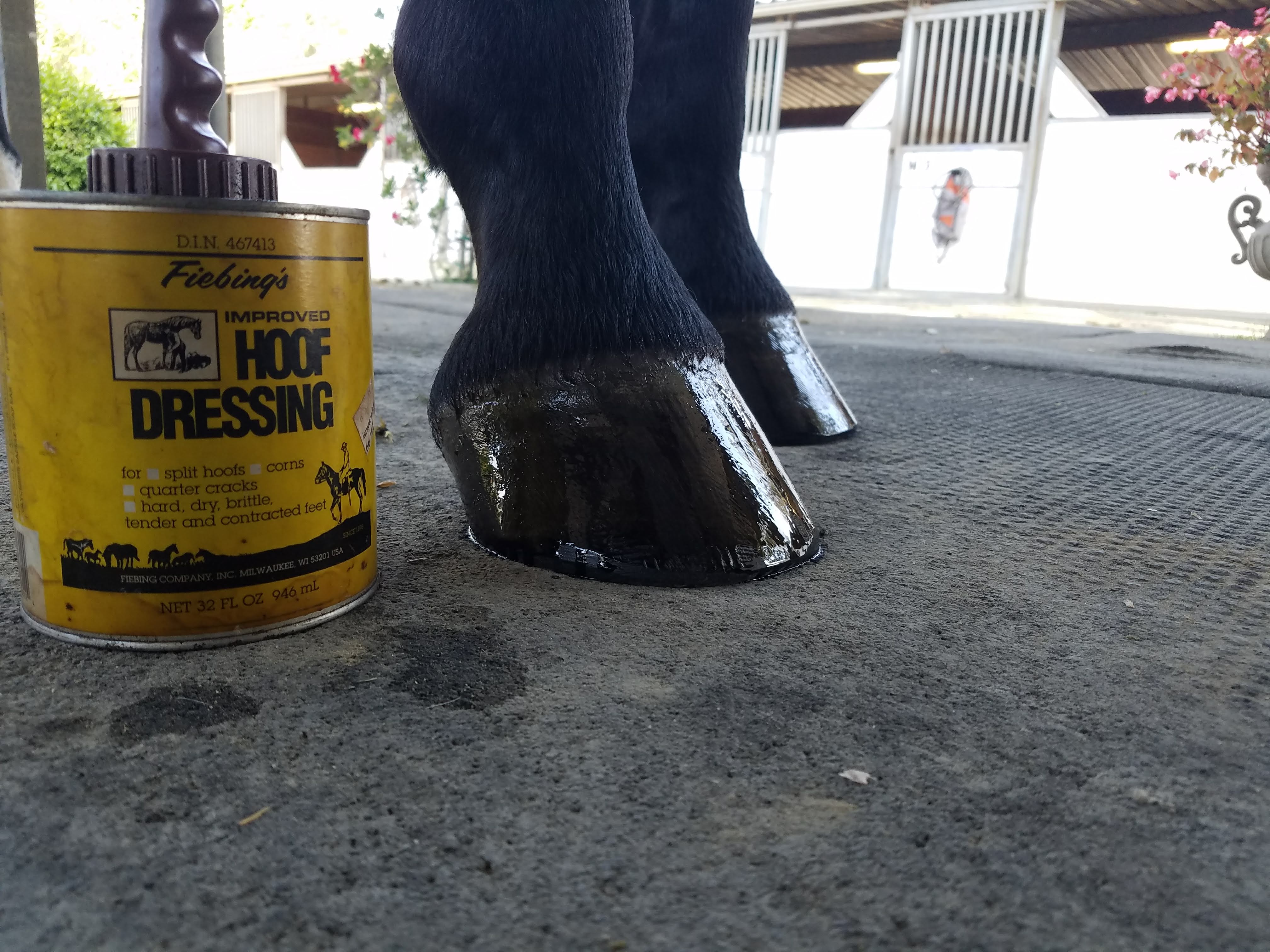 Why and when to use dressings:
1.If your horse grows poor quality horn and has a weak permeability barrier (a good question to ask your farrier!) You may consider adding a hoof dressing to your grooming and care regime.
2.While the hoof wall itself does not absorb hoof dressings, dressings can act as a barrier to keep the rate of moisture loss from the hoof to a minimum (great for hot climates)
3.In cases where your horse is in an excessively wet climate, or in water often, a hoof dressing can act as a barrier for the hoof to keep it from absorbing too much moisture.
4.Many dressings applied to the frog and sole will help toughen up soft hooves.
Whether barefoot, shod, conditioned, or not, regular attention from a skilled farrier can help keep hooves in balance and functional. While your farrier may be your first line of defense in keeping your horse's hooves in tip-top shape - our friendly staff at Mary's is always happy to help you figure out the best product and product combinations to suit your needs.
For further Hoof resources check out: Hoof Dressing Choices for All hoof Types