Posted by Mary's Tack & Feed on 6th Dec 2020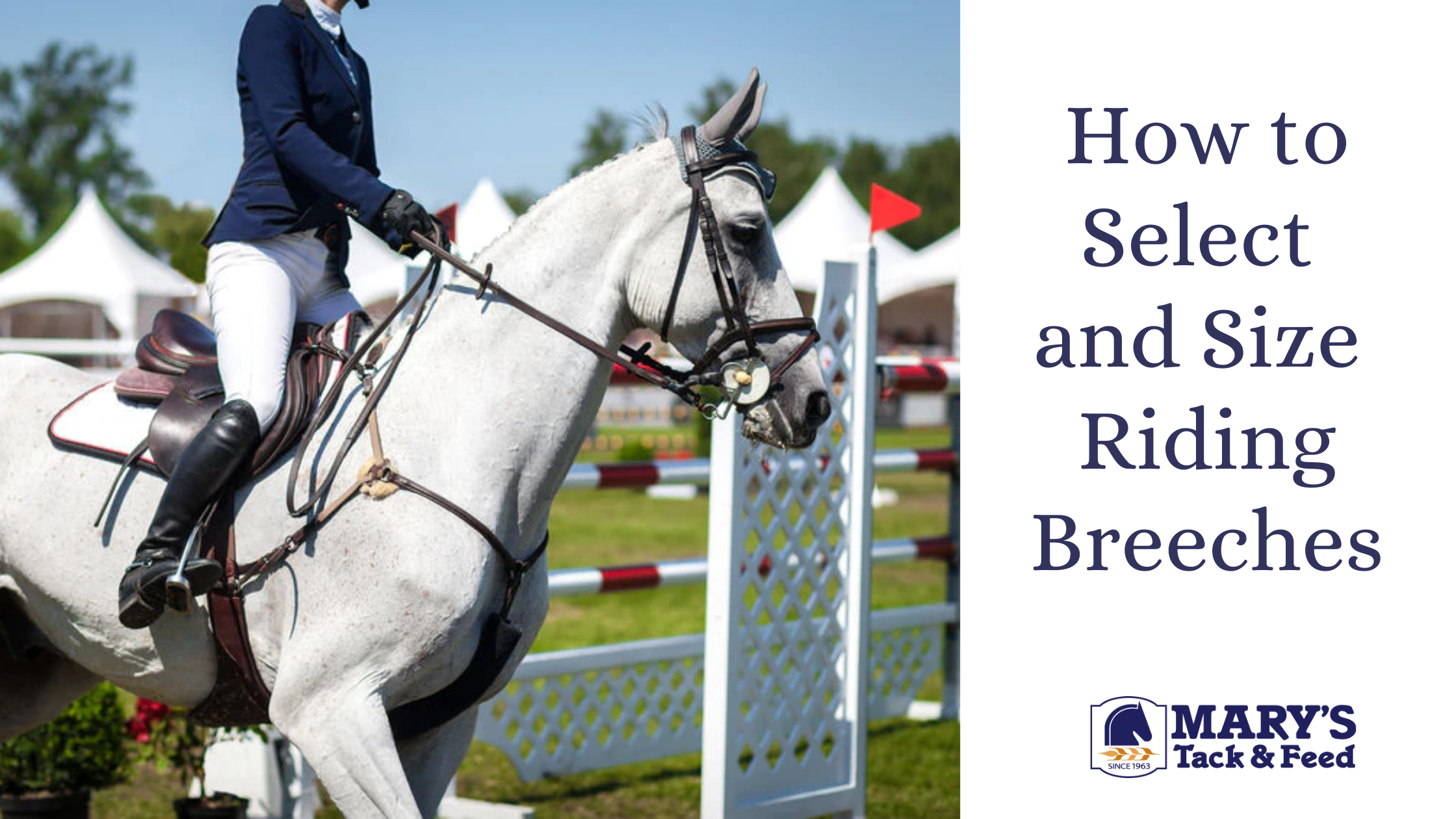 What are Riding Breeches?

English riding pants, breeches, tights, and jodhpurs are snug-fitting, stretchable pants designed for horse riding. Breeches are designed for maximum comfort in the saddle. Well-fitting riding pants will prevent skin chafing, allow freedom of movement and help keep the rider from slipping around in the saddle. The concept behind breeches is to give the rider comfort in the saddle that allows focus on riding, ease of movement, and provides close contact between the rider's leg and the saddle.
Comparing Different Styles of Breeches

Breeches, tights and Jodhpurs are very similar and are worn for horse riding, but there are a few key differences. Jodhpurs, which got their name from the city Jodhpur, in Rajasthan, India, trace their lineage back to the game of polo. In modern form, jodhpurs end below the ankle, have a cuff and are close fitting. Jodhpurs are often paired with paddock boots. Now worn primarily by children, there are elastic straps that hold jodhpurs in place under the paddock boot, and are paired with leather garters that are worn below the knees to keep the pants from twisting while riding.

Riding breeches and tights are what most riders choose. They generally stop above the ankle, which makes them easier to pair with English tall boots. When looking at riding pants, the main thing to decide is full seat breeches or knee patch breeches.
Full seat breeches and tights are just that – the seat and the inner leg have a layer of gripping material, often suede but more recently silicone grip has come into favor. Less bulky than traditional suede, silicone grip is easy to care for and offers increased grip in the saddle. For both suede and silicone, the extra grip reaches up from the knee to the inner thigh to the seat of the breeches. Dressage enthusiasts tend to favor full seat breeches but anyone who likes more of a grip in the saddle can choose Full Seat breeches or tights.
Knee Patch breeches - preferred by most riders, especially riders who like to jump. Knee Patch breeches & tights employ grippy fabric in the knee and inner thigh areas, but not in the seat of the breeches. Grip material is the same – suede or silicone.
How to Select and Size Riding Breeches

Once you've decided between Full Seat or Knee Patch look for breeches or riding tights that fit snugly in the legs, but not so tight they limit movement, pinch or cut off circulation. Most fabrics used now are very stretchy so you can get a close fit without compromising comfort. Look for flexible, stretch and breathable in the description. Stain resistant is another feature when choosing lighter color fabrics. Tights are gaining popularity because they are pull-on with no zipper or snaps, allowing a close, smooth and comfy fit. Tights now utilize amazing fabrics. Compression tights offer a snug feel, muscle support, tummy control, and best of all great add-ons like cell phone pockets! Lots of fun prints too to liven up your wardrobe.

Riding breeches sizing is measured by waist size and by length (short, regular and long). For traditional fit and high-rise riding breeches, measure around your waist with a tape measure. If opting for low-rise breeches, measure around your hips to get a more accurate number. That number (in inches) will give you a great guestimate of the waist size of your new favorite breeches. Every brand will fit a little differently, so give us a call if you've got questions about which breeches would be best for you!

Breeches come in many different styles and colors. The crucial factors to pay attention to are fit, comfort and if the breeches you selected match your riding style. Once you've nailed these variables down, the right pair of English riding breeches will improve your performance and make your time on your horse more enjoyable.