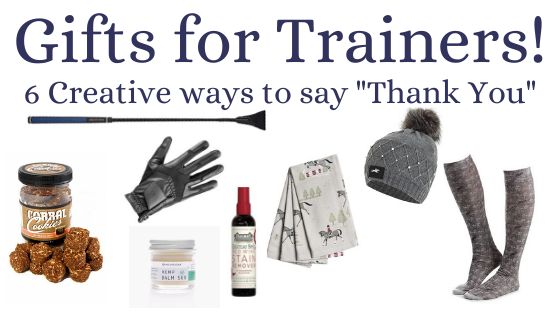 The holidays are here! Whether your show season was amazing or not, your trainer was there to hold your hand. Perhaps they coached you through a move up, helped you figure out a new horse, or facilitated an injury rehab. Maybe they reminded you "diagonal" and "inside rein, outside leg" at least 137 times. Without even looking at you. Or just by looking at you. The holidays are the perfect time to thank your trainer for their commitment to you and your horse. Mary's Tack & Feed can help you put together a creative trainer gift for any budget. Here are 6 ways to show your trainer some holiday love.

Wine. Or rather, a wine/beer/spirits themed gift basket. These fab candles from Swag Brewery, a NEBO Smart Knife with bottle opener, napkins from Sophie Allport, and Chateau Spill Red Wine Stain Remover make a fun presentation of useful but not ordinary items your trainer will genuinely appreciate. Add a bottle and you will achieve Most Favorite Client status.

Rider Spa Basket - Mary's Botanicals Muscle Spray, Boo Boo Balm, a soft scarf, Back on Track gloves or socks, Supracor Bath Mitt, Warmies Cozy Plush Animals, and Neurogan Hemp Balm are just the tip of the iceberg. Mary's has tons of soothing and luxurious care products to assemble a unique basket just for your trainer. Make it extra equestrian by using a Miller bucket as the basket. Tuck in chocolates, tea, or a bottle of ibuprofen if you really challenged your trainer this season.
Little Luxuries – consider one special unexpected item. Like super fancy socks! High end technical socks from Equiline and Animo are a treat for a trainer that might not spend that kind of money on socks but would love, love, love to have them. A Schockemohle knitted hat, Spur Tech On The Buckle Spur Strap, or Animo Vanna Cap does the trick, too. An elegant Rose Gold Frame with a special photo from you is personal and sweet. Think practical deluxe.
A Whip. Yeah, this really is an equestrian specific gift, is it not? How many times has your trainer's favorite whip, crop, spurs, or lunge line vanished? You could bundle a few items together - the Centaur Padded Lunge Line with a Fleck Basic Bat and Tory Leather Double Keeper Spur Straps. Or, pick one slightly pricier item like the Fleck Delta Pro Grip Bat or Uvex Ventraxion Gloves. Your trainer will be happily surprised that you thought of this.

Sweets & Treats - for the trainer who has horses and perhaps a dog or three. Bake a batch or purchase your trainer's favorite cookies. Add special horse cookies like super cute ones from Snaks 5th Avenchew or a Mrs. Pastures Christmas stocking. Choose gourmet dog treats like Papa Psuka in the 3oz tray, Smooches from The Honest Kitchen, or Fruitables Pumpkin Baked Dog Treats. Arrange them in a basket, bucket, or gift bag with candy canes for sweet treat impact.

Mary's Tack & Feed Gift Cards could not be easier and are always appreciated. Many barns like to pool funds for gift cards to give the trainer and assistants. A Mary's gift card is special because your trainer earns Points & Perks rewards when shopping. It's a gift that keeps giving! Present it with a card where you list the "Top Reasons You're The Best Trainer" or simply a heartfelt sentence or two.
Mary's Tack has horse & rider gifts to make your trainer forget your snippy remarks during No Stirrups November or the heart stopping way you take out strides. Whether you shop in store, by phone, or online, we are happy to help you find a thoughtful, creative, and memorable trainer gift this holiday season.