Posted by Mary's Tack & Feed on 3rd Mar 2022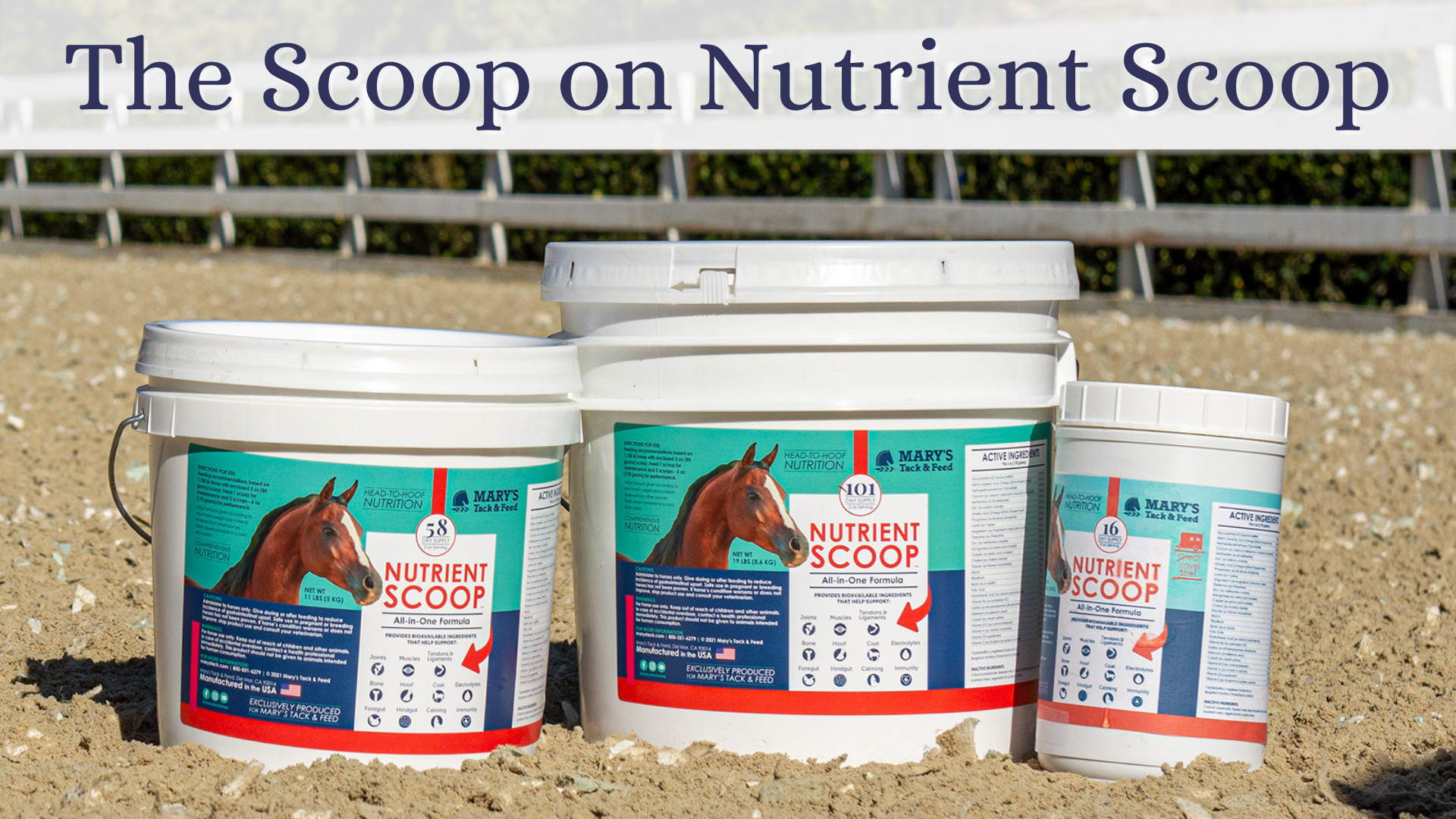 Nutrient Scoop is a top quality, 11-in-1, granular supplement that makes it easy to ensure your horse receives the complete nutrition they need. With Nutrient Scoop, all you need on your supplement shelf is one bucket. Save time and money by feeding one scoop of Nutrient Scoop instead of juggling 11 different pouches, packages, and bins. Nutrient Scoop is a highly effective, convenient, and economical way to deliver all the support your horse deserves.
Nutrient Scoop was developed by equine nutritionist Dr. Colleen Wilson, who wanted to create the best complete equine supplement based on the latest nutritional research. With a PhD in Equine Nutrition, Dr. Colleen was confident there was a way to develop a high quality, all-in-one supplement for all horses. As an avid equestrian, Dr. Colleen understood the need for a convenient and economical way to ensure horses were getting the complete nutrition they need. She put her mind to it, and developed Nutrient Scoop! Dr. Colleen chose Mary's Tack & Feed exclusively to offer it to horse owners. Thanks to her ingenuity and dedication, Nutrient Scoop is now the high quality, convenient, and economical way to keep your horse in tip-top shape!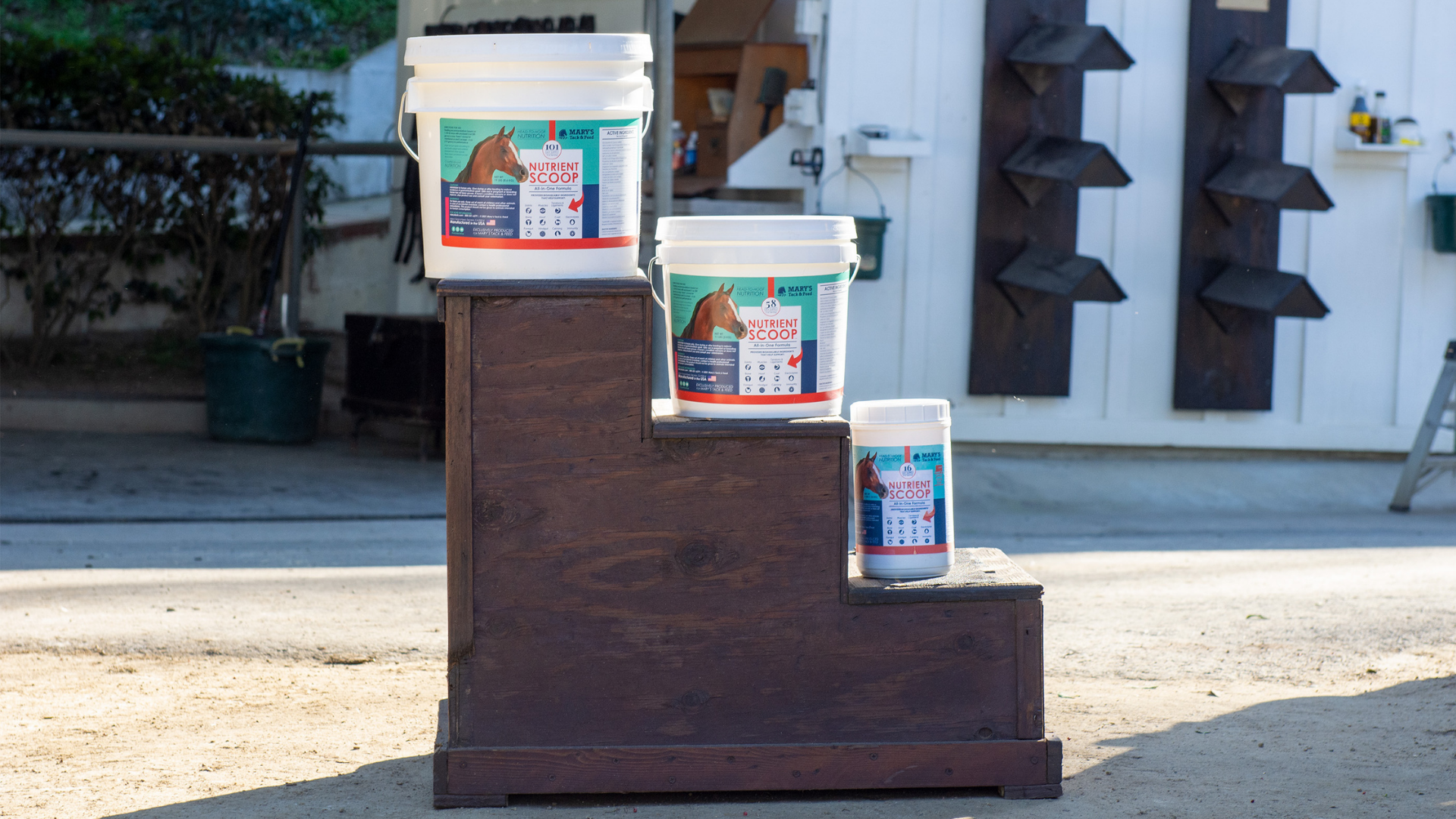 11 in One Scoop!
Joint | Muscles | Tendons & Ligaments | Bone Density | Hoof | Coat | Electrolytes & Hydration | Foregut stomach health | Hindgut health | Calming | Immunity
How do you get 11 benefits in 1 scoop? Nutrient Scoop from Mary's Tack & Feed is a premium horse supplement that covers every equine nutritional need so your horse can thrive. One scoop provides highly bio-available vitamins, minerals, prebiotics, and more, with the best ingredients backed by science. The 11-in-1 formula includes horse supplements for joints, hooves, gut health, and much more. Nutrient Scoop is the first equine supplement to include a postbiotic. This postbiotic for horses is proven to assist with hindgut digestion, enhance immunity, and support joint health. Nutrient Scoop's granular form is easy to feed even without grain, and helps clear sand from the digestive tract. A complete list of ingredients can be found below. If you have questions about specific ingredients, or would like more information, please visit us at www.marystack.com/nutrition.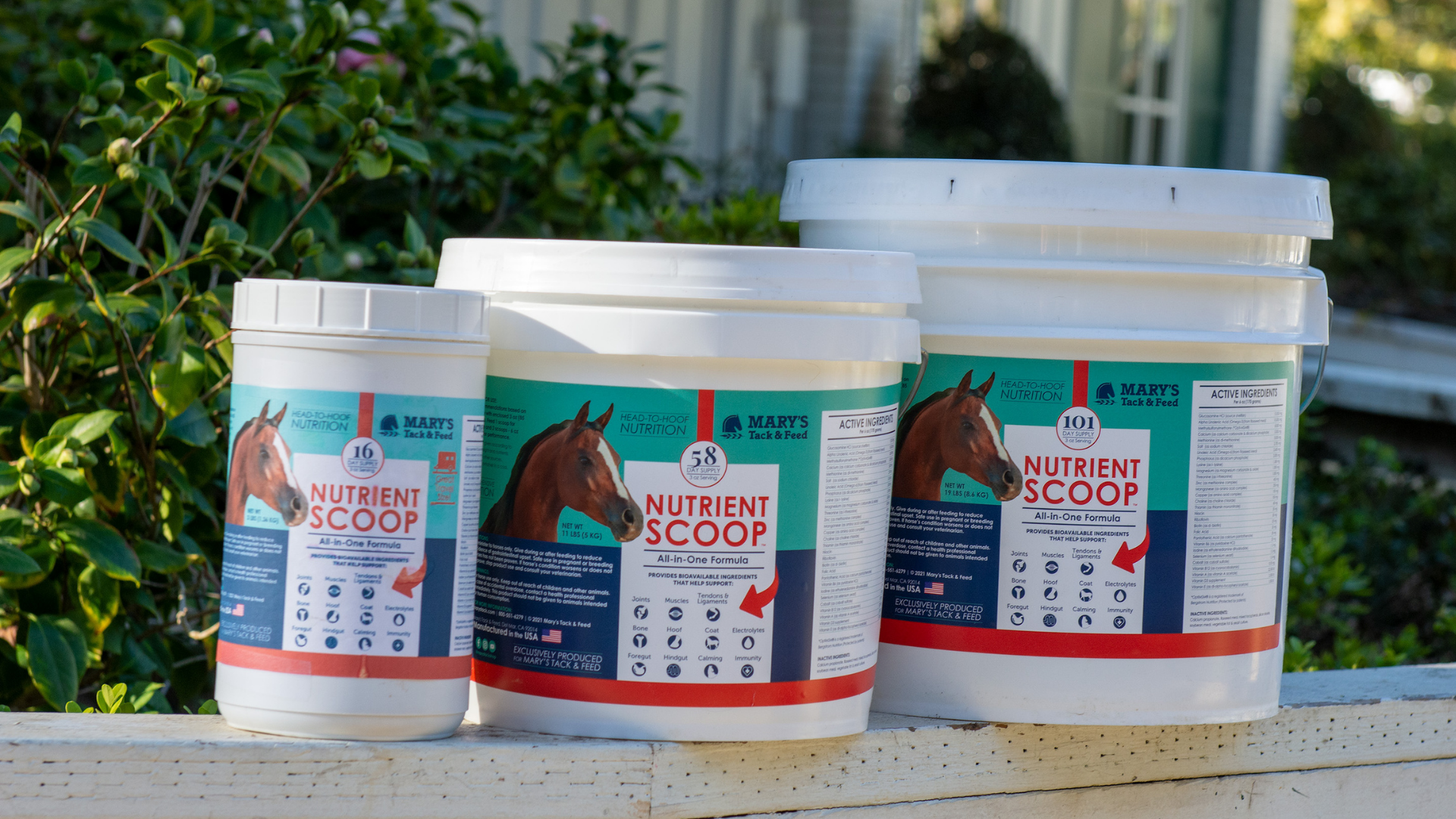 Simplify and Save with Nutrient Scoop.
Nutrient Scoop is especially valuable for large barns that have many horses with different nutritional needs. The extremely palatable, comprehensive ration balancer is perfect for performance horses, growing horses, and aging horses. Imagine your feed room clutter-free with just one supplement for all of your horses. No more pouches, packages, and mess. Our reusable buckets are great around the barn so you can feel good about not using one-time-use plastics.
Most horses just need one 3oz. scoop to maintain optimal health. To determine if your horse needs two scoops (6 oz.), consider their weight, overall condition, and the amount of fortified feed you use. If your horse weighs about 1,100 lbs. one scoop of Nutrient Scoop is all you need. For horses under stress, like peak-performance equine athletes, horses recovering from injury, or poor condition, two scoops may help them recover more quickly. Save time, money, and space by streamlining your supplements with Nutrient Scoop!
This exclusive, economical, head-to-hoof horse supplement is available only at Mary's Tack & Feed. Earn Points and get Free Shipping on most orders.
3 lb - 16 day supply (travel size); 11 lb - 58 day supply; 19 lb - 101 day supply