Posted by Mary's Tack & Feed on 15th Nov 2022
2022 Holiday Gift Guide – Top Gifts for Horse People
Tis the season to find that perfect something for your barn besties. Let us help you find their new favorite thing, just in time to pop it under the tack room tree. Trainers, farriers, grooms, and friends all make our barn life extra special, so let's show them just how much we appreciate them.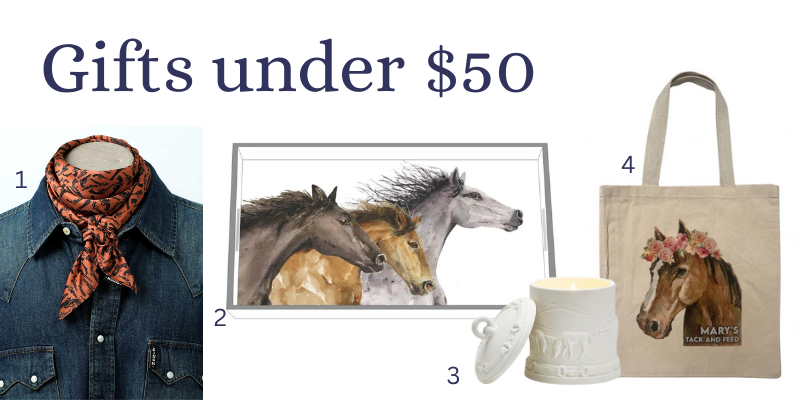 Gifts under $50 are perfect for equestrian gift exchanges, neighbors, and just about everyone on your list. Let's take a closer peek at our favorite gifts for equestrians under $50.
1.Cruel Denim Wild Rags $29.99 - Cruel Denim Wild Rags are classic Western scarves that are perfect as a show scarf for your Western ranch classes and working equitation.
2.Hoof Beats Wooden Tray $32.99 - This lovely lacquered wooden tray has a gorgeous image of three horses with manes flying.
3.Equus Bisque Lidded Candle $36.99 - Equus Cedar and Leather Scented Candle has extra elegance with the lidded fine bone porcelain jar. The white bisque jar has a classic horse design in relief. The candle is environmentally friendly soy wax in a rich, warm Cedar and Leather scent.
4.Mary's Tack Flower Crown Horse Tote $15.99 - This cotton woven tote bag is perfect for everything that needs to go from the house to the barn or wherever it is you're going. Barn girls can always use an extra tote bag!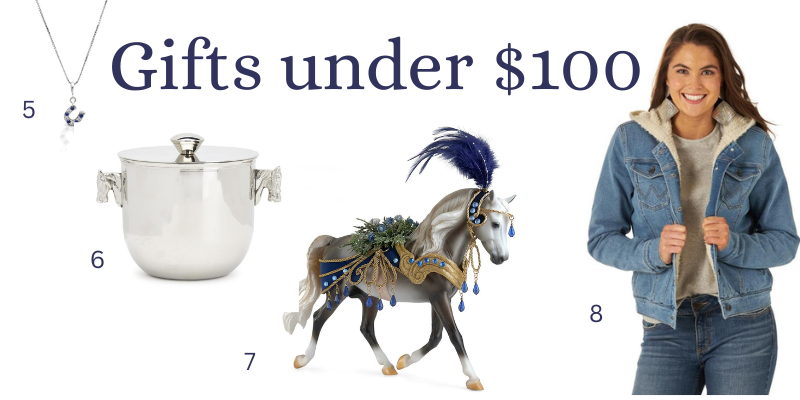 Gifts under $100 are great for your best barn mates and those that help you care for your horse every day. A little extra sparkle and style set these gifts under $100 apart.
5.Kelly Herd Blue & Clear Dangle Horseshoe Necklace $89.00 – This necklace features a beautiful sterling silver horseshoe enhanced with blue and clear CZ stones. The horseshoe pendant hangs at an angle, giving it a unique, fun look.
6.Thoroughbred Horse Handles Ice Bucket $84.99 - Thoroughbred Horse Handles Ice Bucket is sophisticated for entertaining or to elevate your everyday style. This ice bucket achieves both a traditional and contemporary look with its classic motif and clean, simple lines.
7.Breyer Snowbird Holiday Horse $64.99 - Snowbird is the 26th model in Breyer's popular Holiday Horse collectible series. The snowy winter theme is carried out with great attention to detail.
8.Wrangler Women's Denim Sherpa Hooded Jacket $99.99 – This Denim Jacket has legendary Wrangler style with added sherpa lining and a hood for cold weather warmth.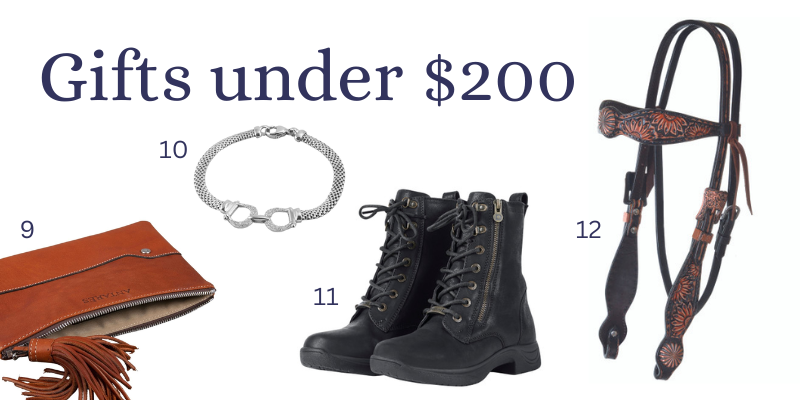 Gifts under $200 look great and feel even better. These are gifts they're sure to love all year long.
9.Antares London Leather Clutch bag $115.00 - Antares London Leather Clutch Bag is a beauty in French saddle leather with distinctive equestrian touches.
10.Kelly Herd Mesh Equestrian Bracelets $180 - Kelly Herd Buckle Bracelet and Bit Bracelet have a subtle equestrian motif that riders will appreciate. The sophisticated look would work for non-equestrians, too, because the bracelets are simply beautiful.
11.Dublin Tilly Boots $109.95 - A fun and versatile lifestyle boot, The Dublin Tilly has a lace up front so you can adjust the fit plus a side zipper for quick on and off.
12.Circle Y Sunflower Brow Headstall $123.99 - Circle Y Sunflower Brow Headstall has vintage charm with tooled sunflowers and 2-tone leather embellished with dramatic antique copper conchos. This rich and expressive headstall has wide shaped cheeks and browband plus gorgeous hardware.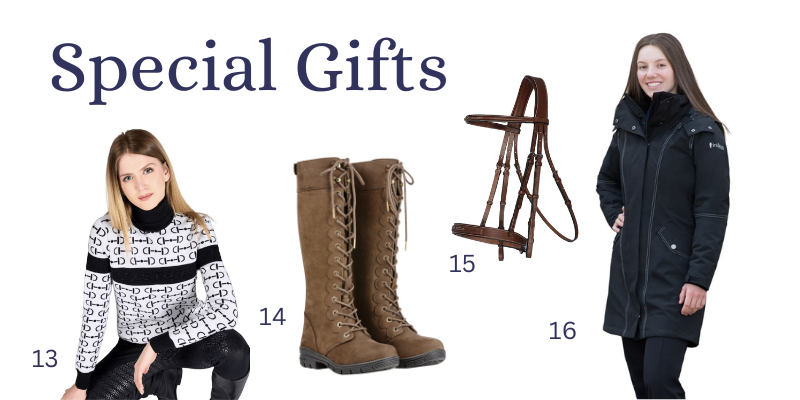 Special Gifts for Equestrians are truly exceptional. Superior quality and styling set these gifts apart. Here are a few of our favorite special gifts for horse lovers.
13.Vestrum Montagna Sweater $299.00 – The Vestrum Montagna Turtleneck has striking equestrian flair with a black bit intarsia pattern on a white background. This equestrian themed sweater will effortlessly transition from a busy day to a holiday party or evening out.
14.Dublin Admiral Boots $214.95 – A classic country boot style with full length front laces and scalloped overlay detail. These eye-catching leather tall boots for riding and casual wear are waterproof, durable, and built for all-day comfort.
15.Arion Fancy Stitch Hunter Bridle $599.00 – The Arion Fancy Stitch Hunter Bridle is a gorgeous show bridle made with the finest French leather and a comfortable design. With European style for the American hunter ring, the Arion Fancy Stitch Hunter Bridle is a lovely choice for competition.
16.Irideon Felicity Insulated Parka $229.95 – The new Felicity Insulated Parka is brimming with style and packed with smart features. Whether you choose classic Black or vibrant Macaw blue, the Irideon Felicity Insulated Parka will add warmth and style to your cold weather riding wardrobe.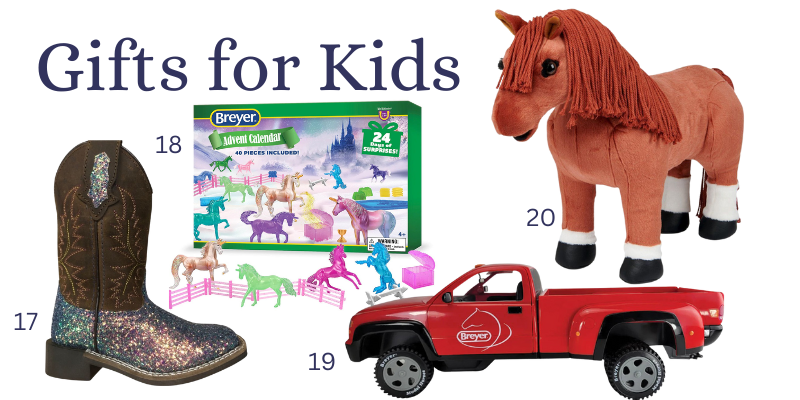 Gifts for kids can be tricky, but not at Mary's Tack & Feed! We have a great selection for all horse crazy kids this season. Check out some of the hottest gifts for 2022.
17.Smoky Mountain Kids Ariel Glitter Boots $64.99 - Authentic Western styling with modern charm includes Crazy Horse stitching, pull tabs with glitter overlay, and a proper heel for stirrups.
18.Breyer Unicorn Magic Advent Calendar $29.99 - The Breyer Unicorn Magic Advent Calendar adds even more excitement to the Christmas season with Mini Whinnies unicorns and accessories. A total of 15 unicorn figures plus cute accessories and a special animal friend will make a fun surprise each day leading up to Christmas. There are 40 total pieces!
19.Breyer Red Dually Truck $110.00 - The new red Breyer Traditional Dually Truck is the one you need for busy life at your Breyer ranch and stables! The truck is designed to work with Traditional Breyer horses, rider dolls, and accessories.
20.LeMieux Toy Pony $79.99 - Adorable plush LeMieux Toy Pony is one of those special toys that kids will love for a very long time. From the deluxe eyelashes to the soft coat and excellent quality, the LeMieux Toy Pony is a charmer and the perfect addition to a horse toy collection.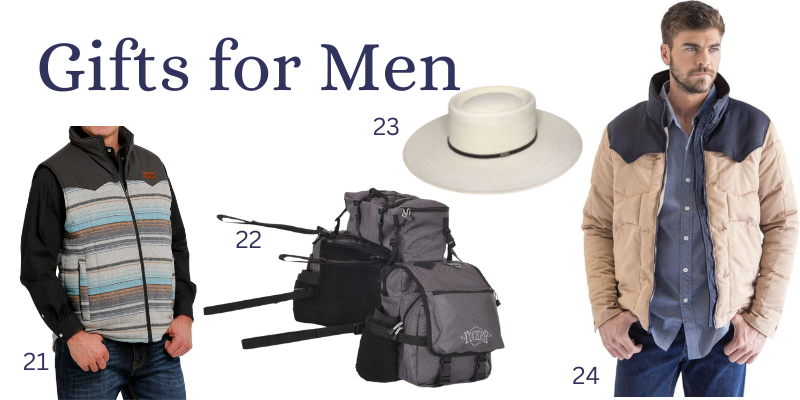 Gifts for men, whether they ride English or Western, or simply love the outdoors, are easy to find at Mary's Tack. Below are some of our favorite gifts for men.
21.Cinch Men's Reversible Insulated Vest $109.99 - The Cinch Reversible Insulated Vest for men is lightweight yet delivers core warmth when you need it. The practical Reversible Vest from Cinch features a zippered front, high collar, and pockets on both sides.
22.Tucker Adventurer Saddle Bags $166.99 - The Tucker Adventurer Saddle Bags for Western saddles is for serious trail riding to ensure riders have the gear they need in an ergonomic, protective, and easily accessible design.
23.Atwood Nevada Palm Hat $62.99 - The Nevada Palm Hat look is simple and classic with a narrow hat band finished with a small Atwood tag. Palm leaf is durable and good for sun protection while working around the ranch or barn.
24.Kimes Ranch Men's Colt Jacket $142.00 - Kimes Ranch Colt Jacket for men has that distinctive Western look and practical features needed for everyday comfort and function. The insulated jacket has classic Western elements to keep the authentic vibe intact.
You'll find great gifts for everyone on your list. From veterinarians to farriers, grooms and trainers, even the pickiest of horse people will love a gift from Mary's Tack and Feed. When in doubt, give a gift card or e-cert! They're a one size fits all way to ensure everyone has very happy holidays.
Wishing you all a safe and sensational ride! Happy Holidays from the Mary's Tack Team.