What's New for the Guys for July! - See more of our Men's Riding Gear!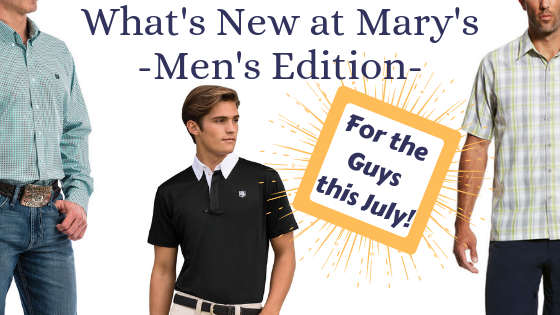 Mary's Tack has a long history of outfitting riders and we really love making the guys look sharp! Men's Western button-down, button front, and traditional snap shirts are always here, whether you need a competition shirt, a working shirt, or something that takes you from trail to office. We carry an extensive selection of knee patch and full seat riding breeches, show shirts, belts, and socks, too. Some of our more recent men's clothing arrivals are worth a shout out.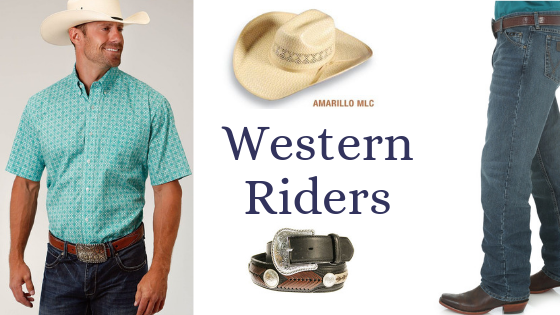 For July, we have lots of cooler shirts like the Ariat TEK Solitude Shirt that's light, moisture wicking, and UV protective. The Roper Lattice Medallion Print Shirt is all business, with button-down collar, cool cotton in a turquoise and white pattern, and precise tailoring. The Stetson Ivy Print Shirt is perfect for the Western horse show competitor with its crisp single point yokes, traditional pearl snaps, and subtle pattern. The Deco Print Button Down Shirt from Cinch is cool cotton with sophisticated print, a roomy fit that guys love, and a classy look for show pen or office.
There's really no getting away from jeans unless you're posing for a calendar. If that's not happening, check out the Wrangler Cool Vantage Competition Relaxed Jeans with moisture wicking technology for cooler, drier rides. Ahhhh!
Summer means sun and sun means a good hat. We've carried Atwood Hats for years, but worth a reminder that Mary's has lightweight yet sturdy straw hats in several styles. Two favorites are the Nevada Palm with wide brim and the Amarillo modified low crown shantung straw hat. Both are crisp and classic with breathable comfort.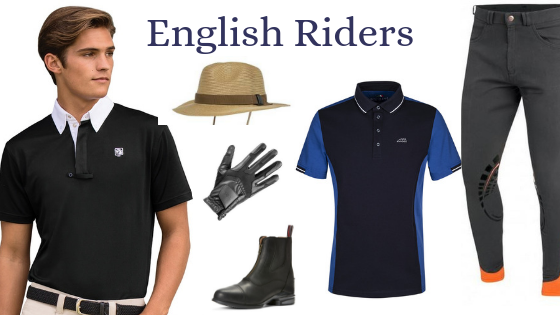 For English riders, Mary's has the Romfh Men's Short Sleeve Polo and Equiline Men's Hasit Polo Shirt, technical show shirts that are ideal for summer competition. When a jacket is required, look no further than the Horseware AA MotionLite Competition Jacket for its incredible airflow and classic good looks.
Ariat Men's Devon Nitro Paddock Boots are the latest riding boots for schooling that look and feel fantastic. The Devon Nitro is supportive, durable, and filled with outstanding Ariat performance features. Mary's also stocks several colors of the Schockemohle Draco Knee Patch Breeches that fit so well and offer cool comfort and flexibility, a great choice for summer.
Summer hats for men include Ariat Men's Ball Caps and the Equiline Logo Hat. Trainers in particular appreciate the Excursion Hat for its UPF50 protection and classic Panama hat styling. One of our newest riding gloves that's suitable for shows and schooling is the Uvex Ventraxion Gloves with excellent ventilation and stretch in your choice of three colors.
Whether you're looking for Western belts and buckles, show jumping ties, socks, show jackets, breeches, jeans, work shirts, or show shirts, stop by Mary's or shop online for great selection of men's riding clothes from top brands. Remember to sign up for Points & Perks to earn valuable points for future purchases, too!