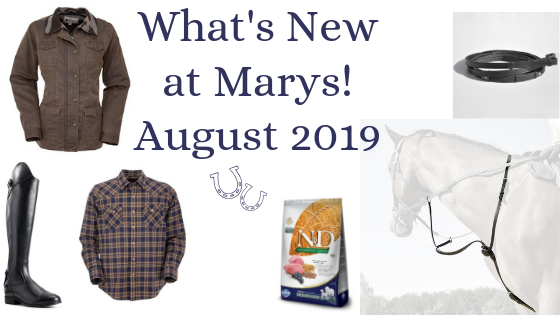 What's New at Mary's this August!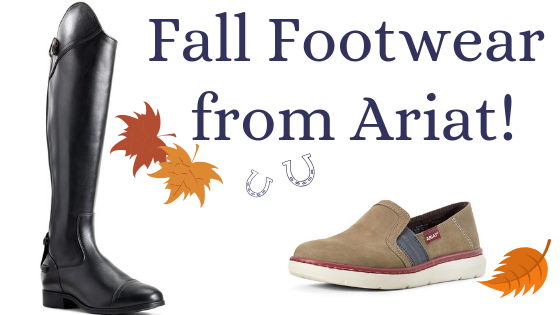 It's always exciting when we hear the words "New Ariat is here!" We're talking the new Kinsley Dress Boot, an elegant tall boot at an affordable price. The Kinsley has full-grain leather with a tapered ankle, high Spanish top, and a mobility curve behind the knee for total comfort. No pinching the knee pit! This is a versatile riding boot for hunters, jumpers, eventers, and dressage riders. You'll love the sturdy zipper with stretch panel, the sophisticated low profile heel, supportive ATS Pro footbed, and easy function keeper tabs.
If you're a fan of Ariat Cruisers, check out the new Ryder casual slip-on shoe. The footbed is extra cushy and the shoes are lightweight, perfect for after-barn relaxation, travel, or running errands. Mary's has the neutral sage color in stock right now and more colors of the sporty Ryder will arrive soon.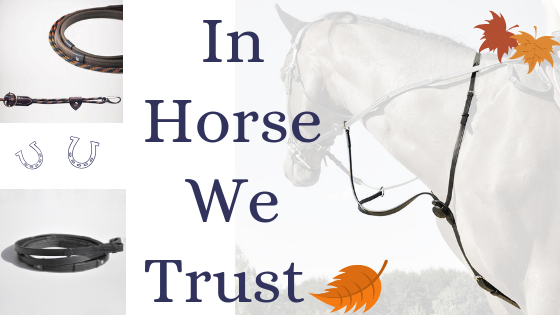 There are new tack items from In Horse We Trust, an innovative French brand. New tack at Mary's includes the Reins Adjust Dressage and the C-Cure Running Martingale with an extra-safe design. The design and high tech materials make IHWT English tack extra special.
Something for doggos! There's a new dog food in town, N & D Ancestral Grain, with naturally sourced high quality protein and low-glycemic index grains spelt and oats. Most dogs can benefit from a kibble with grain, but the type of grain is important for nutritional value. N & D Ancestral Grain is from Farmina, an Italian company that takes canine health and nutrition seriously. We currently have two varieties of N & D Ancestral Grain in the Medium/Maxi dog kibble size.
Ready or not, Fall is just around the corner. It's time for back to school night, pumpkin spice lattes, and plaid! Be prepared for the temperature drop with high quality, versatile shirts and jackets from Outback Trading Company. The popular fleece Big Shirt for men and women is back, plus the new oilskin Broken Hill Jacket for women and the handsome Bowman Workman Shirt for guys. Outback offers great outdoorsy clothes that are perfect for barn, camping, and Friday night football.
Mary's Tack & Feed has an incredible variety of merchandise in store, not just tack, feed, and apparel. There's jewelry! We are big fans of beautiful sterling silver jewelry designed locally by Janelle Cassiano. Her Cassiano Designs earrings, necklaces, bracelets, and rings have wonderful details, graceful proportions, and are inspired by horses, nature, and art. The Elliana Earrings and Fiona Fox Ring have style and charm for days. Cassiano Designs jewelry is an outstanding gift for family, friends, and of course, you.
Grab that triple pumpkin spice latte and pop by the store or sip and shop at home. In store or online, Mary's has your favorite classics plus exciting new things for your best equestrian life!